In case you missed it, the Patriots 2019 schedule was released on Wednesday, in one of the more grandiose displays of the NFL's ability to dominate the media cycle with just about anything. Although the opponents have been known since the final day of the 2018 season, we now have an order, kickoff times, and a bye-week to schedule our fall months around. Let's dig in to the 17-week, 16-game slate and see what, if any determinations we can make about the 2019 Patriots season after its release.
---
SPONSORED MESSAGE:

IT'S THE NBA POST SEASON & STANLEY CUP PLAYOFFS! YOUR ONLINE SOURCE IS

BETONLINE.AG

.

THEY'RE THE GO-TO SOURCE ONLINE SPORTS AND ENTERTAINMENT GAMING. USE PROMO CODE:

CLNS50

FOR

50% CASHBACK

ON FIRST DEPOSIT.
---
So you don't have to keep bumping back and forth to see what is being mentioned below, here is the 2019 Patriots schedule:
W1: PIT (SNF)
W2: @ MIA
W3: NYJ
W4: @ BUF
W5: @ WAS
W6: NYG (TNF)
W7: @ NYJ (MNF)
W8: CLE
W9: @ BAL (SNF)
W10: BYE
W11: @ PHI
W12: DAL
W13: @ HOU (SNF)
W14: KC
W15: @ CIN
W16: BUF
W17: MIA
Most consecutive home games: 2 (Weeks 16-17, vs BUF & MIA)
Most consecutive road games: 2 (Weeks 4-5, @ BUF & WAS)
Most consecutive weeks without a home game: 3 (Weeks 9-11, @ BAL, Bye, @ PHI)
Games vs 2018 playoff teams: 5 (BAL, HOU, KC, DAL, PHI)
Games vs 2018 bottom-10 teams: 5 (NYJ x2, BUF x2, NYG)
Games vs 2018 Pro-Bowl QBs: 3 (Patrick Mahomes/KC, Deshaun Watson/HOU, Dak Prescott/DAL)
Common opponents from 2018: 6 (HOU, KC, PIT, NYJ, MIA, BUF)
1:00 PM kickoffs: 7
4:25 kickoffs: 4
Primetime kickoffs: 5
The best news for the Patriots is that this schedule won't be too demanding from a travel point of view. They only have one instance of back-to-back road games, the first such occurrence for them since 2014. As for individual locations, they get Buffalo out of the way early (September 29) before it gets too cold. Miami is early in the schedule as well, and while it may be warm that early in the season, New England will be coming off the legendary conditioning treatment Bill Belichick puts them through in August training camp, so the South Florida conditions won't come as too much of a shock to the system.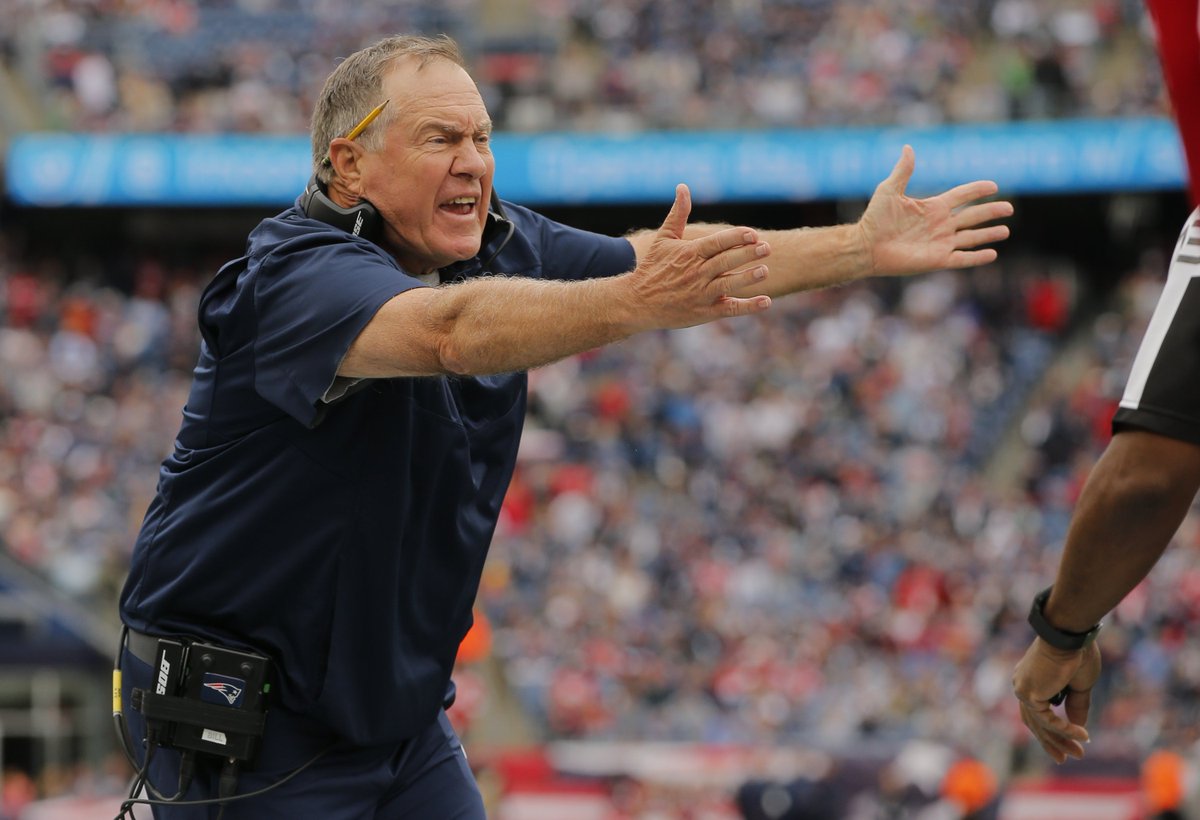 Unlike previous years where Bill Belichick's team has maneuvered around sloppy starts, the Patriots MUST come out of the gate strong in 2019, with three divisional games in weeks 2 through 4, including two of the three coming on the road. All together, the Patriots will play four divisional games before their week 10 bye, the first time they've had such a schedule since 2013. To make matters more challenging, three of those four will be on the road, including a Monday Night date with the Jets. Early losses to the likes of the Detroit Lions and Jacksonville Jaguars are one thing, but falling to Miami and Buffalo in September will be much tougher to overcome.

Like I wrote about yesterday, we are in for our share of late games this season. The Patriots were awarded five prime time starts in 2019, with two coming at home (PIT, NYG). In addition, Cleveland in Week 8 seems like a prime candidate to flex to a Sunday Night, and the home matchup with the Bills hasn't been given a time yet, which means it could be moved to a Saturday Night Game at some point. In addition to the 8:25 starts, the Patriots will also have FOUR 4:25 kickoffs. Often described as a fan favorite, New England hasn't seen too many 'middle window' starts in recent years, but this season, with three in Foxboro alone, should make up for that.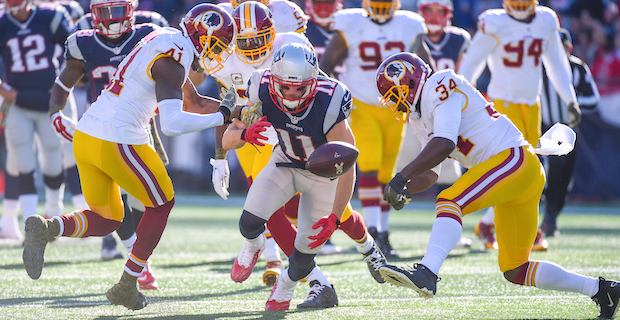 If there is one spot likely to trip up the Patriots, I'm looking at Week 5 in Washington. First off, it is the second half of the only true 'road trip' the Patriots will have this season. And, as road games go, Washington is as unfamiliar territory as there is to the Patriots. They have been to our nation's capital just twice since being founded in 1960, and are 1-1 in those games. On top of that, the Patriots will be coming off of a stretch of three straight divisional games, and will be looking at a short week on the other side, hosting the Giants on Thursday Night football just 4 days later. This is not to say this game is a scheduled loss for the Patriots, but it does present some unique challenges.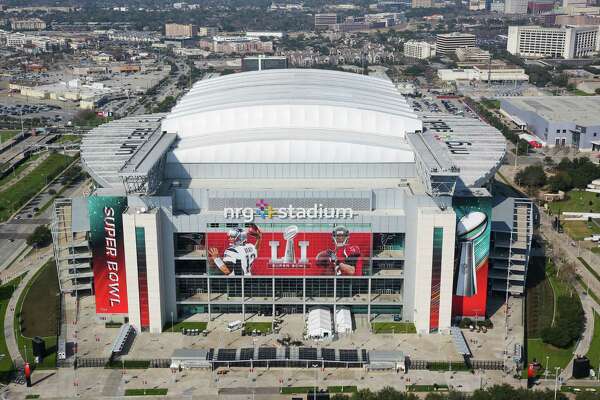 For Patriots fans looking to travel in 2019, look no farther than the game in Houston Week 13. That's the Sunday after Thanksgiving, so there is naturally time to travel with the holiday weekend. Plus, it offers a chance to get out of the cold weather, get some good Texas BBQ, and see a stadium where the Patriots have won not just one, but two Super Bowls. Oh, and it's not a bad game either, it very well could end up being a playoff preview.
-The Patriots-Jets game at Gillette in Week 3 will be played on September 22, the day before the 18th anniversary of the Drew Bledsoe injury game between the two teams.
-The Patriots dodge one of the Browns key offseason acquisitions, their Week 8 game will be the final one of Kareem Hunt's suspension.
-Bill Belichick currently sits at 292 wins. If the Patriots win out to start the season, his 300th career win would come against his former team, the Cleveland Browns, in Week 8.
-15 of the Patriots 16 games take place in the Eastern Time Zone. The game in Houston is the lone exception.
-Of the Patriots 13 unique opponents in 2019, nine of them represent just four states (PA, NY, OH, TX)
For all CLNS Patriots Videos SUBSCRIBE to our CLNS Media YOUTUBE Channel.
---
For the most in depth and comprehensive player and game analysis check out Patriots All-22 with host and Patriots beat reporter Evan Lazar. Listen and Subscribe HERE
---
Get the inside scoop on the Patriots every week on CLNS Media's Patriots Beat Podcast with host Mike Petraglia. Listen and subscribe here iTunes | Stitcher | Spotify