The Patriots first preseason game is in the books, and while it's still too early to crown anybody as a future Patriots Hall Of Famer or the next big draft bust, we certainly learned a lot about how and where a number of players are viewed by the team in relation to the depth chart and roster spot. After going through the Pats shellacking of the Lions on Thursday night, here's how the opening day 53-man roster is looking right now…
1
Quarterback (2)
Tom Brady
Jarrett Stidham
CUT:
Brian Hoyer
Danny Etling
While Stidham has a long way to go, and we're a ways off from anointing him Tom Brady's heir apparent, he's showed enough to this point that the Patriots can be comfortable with him as the backup this season. As backup quarterbacks get hurt as the preseason goes on (see: Philadelphia Eagles and Nate Sudfeld), Brian Hoyer will become a hot commodity and the Pats will be able to get something of value for him on the trade market. Danny Etling is listed here because he's still listed as a quarterback on the Patriots roster. The Patriots could try to get him back on the practice squad.
2
Running Back (5)
James White
Sony Michel
Damien Harris
Rex Burkhead
Brandon Bolden
CUT: 
Nick Brossette
If it was a 52-man roster, Burkhead would have been the next guy off, because he and Damien Harris are competing for the same role. However, running back is a physical position and it never hurts to have as many bodies here as possible, especially with the injury histories of Burkhead and Sony Michel. 
3
Wide Receiver (7)
Julian Edelman
Phillip Dorsett
N'Keal Harry
Maurice Harris
Jakobi Meyers
Braxton Berrios
Matthew Slater
Josh Gordon*
Demaryius Thomas**
Cameron Meredith***
CUT: 
Ryan Davis
Dontrelle Inman
Gunner Olszewski
Damoun Patterson
It originally looked like Meyers and Berrios were fighting for that last wide receiver spot, but they both did enough Thursday night to warrant roster spots. Meyers was clearly dominant, but Berrios' punt return ability and route running (that in-and-out on the 4th and 2 was fantastic) are going to keep him around. It will be interesting to see what happens if/when Josh Gordon returns. Gunner Olszewski and Damoun Patterson are both prime practice squad candidates.
*May open season on Suspended List, won't count against 53-man total
**May open season on reserve PUP list, won't count against 53-man total
***May open season on IR, won't count against 53-man total
4
Tight End (3)
Matt LaCosse
Stephen Anderson
James Develin (FB)
Ben Watson*
CUT:
Lance Kendricks
Andrew Beck
Ryan Izzo
Jakob Johnson (FB)
The flip side of the Patriots keeping 6 wide receivers (plus Slater) is that they're going to have to thin out at another position. Tight end seems like the logical choice to start. They have a number of big-body receivers who can fill TE-type roles in the passing game, and James Develin or an extra offensive lineman can step in as the blocking tight end in heavy sets. Obviously that will create a big decision when Ben Watson returns from his suspension week 4, but we'll worry about that when we get there. Lance Kendricks would have been a great fit in the Patriots offense, but as the old football saying goes, "you can't make the club from the tub." Andrew Beck's versatility should land him a spot on the practice squad if the Patriots can get him there. Jakob Johnson is a practice squad lock since he doesn't count against the 10 player limit.
*Will open season on Suspended List, won't count against 53-man total
5
Offensive Line (9)
Isaiah Wynn
Joe Thuney
David Andrews
Shaq Mason
Marcus Cannon
Dan Skipper
James Ferentz
Hjalte Froholdt
Ted Karas
Yodny Cajuste*
CUT:
Tyler Gauthier
Martez Ivey
Cedrick Lang
Tyree St. Louis
This is probably the most clear-cut position on the Patriots roster. The starting five are locked in, and Karas and Ferentz are Belichick favorites who have been in the system for a few years and can step in at a moments notice. Wynn's unclear status paves the way for Dan Skipper, who will be the insurance policy at left tackle, pending another move.
*May open season on NFI, won't count against 53-man total
6
Defensive Line (9)
Micheal Bennett
Mike Pennel
Lawrence Guy
Deatrich Wise
Adam Butler
Derek Rivers
Danny Shelton
John Simon
Chase Winovich
CUT:
Byron Cowart
Ufomba Kamalu
David Parry
Keionta Davis
Trent Harris
Nick Thurman
We go from one of the easiest positions to cut down to one of the hardest. The NFL talent here is double-digits deep. Cowart, Kamalu, Parry, and Davis all bring a solid skill-set to the table, but there is just too much talent ahead of them. Those four should all end up on other NFL teams if they get cut. Don't be surprised if Cowart ends up with a 'rookie red-shirt' season so the Patriots can keep him around.
7
Linebackers (5)
Ja'Whaun Bentley
Jamie Collins
Dont'a Hightower
Elandon Roberts
Kyle Van Noy
CUT:
Brandon King
Christian Sam
Shilique Calhoun 
Terez Hall
Calvin Munson
Leaving Brandon King off the roster will stir up Patriots fans, but with additions like Terrence Brooks and Damien Harris, his time in New England may be coming to an end. The Patriots are very deep at linebacker and safety, it may be too much to keep him on to sacrifice another player with NFL talent at those positions who can play both defensively and on special teams. Christian Sam is another tough cut after the team took him in the 6th round last year, but Jamie Collins playing at a high level makes it very tough to justify keeping him in the context of this group.
8
Cornerbacks (6)
Stephon Gilmore
J.C. Jackson
Jonathan Jones
Jason McCourty
Joejuan Williams
Keion Crossen
Ken Webster*
CUT: 
Duke Dawson
D'Angelo Ross
Like Christian Sam above, Duke Dawson is left on the outside looking in after the positional outlook changed drastically when he was on IR last year. It also doesn't help him that fellow slot corner Jonathan Jones has been one of the best players on the field day in and day out throughout camp. If Joejuan Williams ends up with a 'rookie red-shirt', which feels like a strong possibility, that could open the door for Dawson.
*May open season on reserve PUP list, won't count against 53-man total
9
Safety (4)
Devin McCourty
Patrick Chung
Duron Harmon
Terrence Brooks
Nate Ebner*
CUT: 
Obi Melifonwu
Malik Gant
AJ Howard
Terrence Brooks looking like an NFL-caliber safety and not just a special teams ace has been a major surprise, and it looks like he's carved himself a key role in this defense in addition to special teams. That means Obi Melifonwu, who has been outstanding for the last month, may end up a depth casualty. The Patriots secondary is the deepest in the NFL and sometimes even top level play isn't enough to earn a roster spot. Right now he's player number 54 on this projection so if anything unexpected comes up, it could open up a spot for him.
*May open season on reserve PUP list, won't count against 53-man total
10
Special Teams (3)
Stephen Gostkowski
Ryan Allen
Joe Cardona
CUT:
Jake Bailey
Jake Bailey has been great, but in the end Belichick will favor the known commodity in Ryan Allen. Five second hang times are great, but the Patriots have never been one to favor flash, and what Allen did in the Super Bowl last year should be enough to keep him around. This is still very much up in the air though, and we have a long way to go. Don't be surprised if this is flipped for Roster Projection 2.0.
11
Last Three On, Last Three Off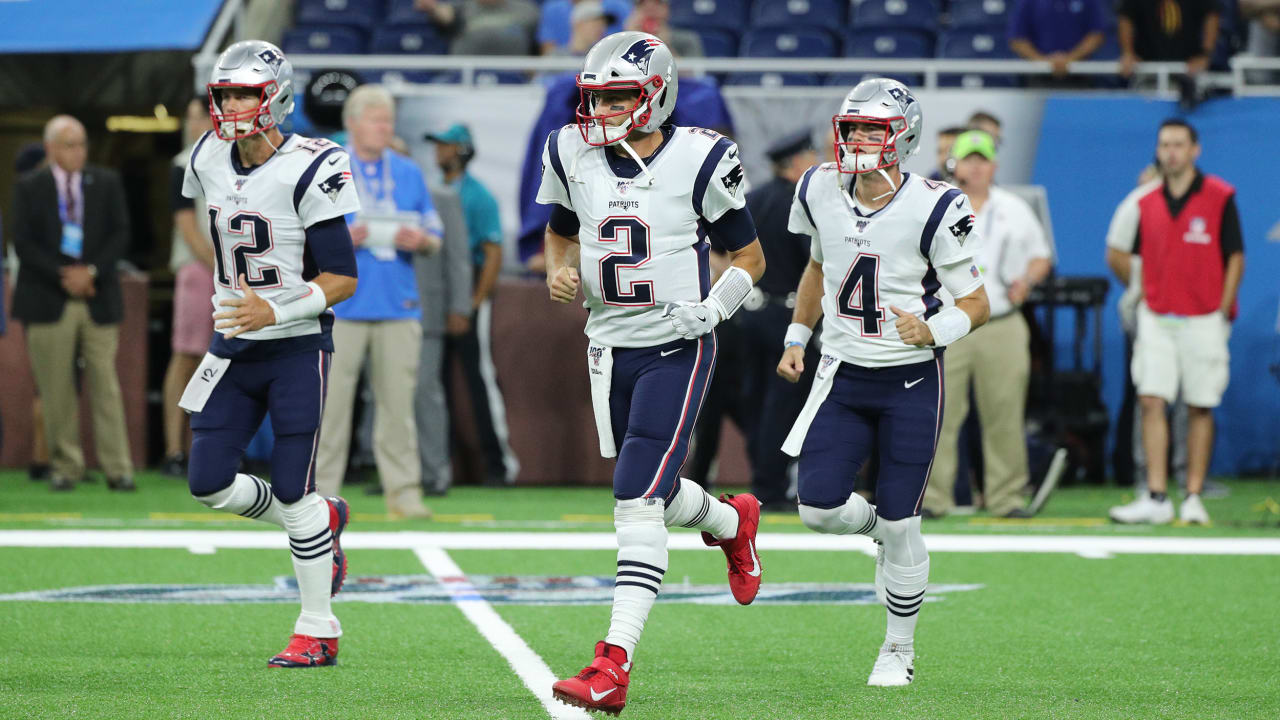 Last 3 On:
Braxton Berrios
John Simon
Ryan Allen
Last 3 Off: 
Obi Melifonwu
Jake Bailey
Brian Hoyer