Thursday night against Carolina was our last real chance to see where a number of Patriots bubble players stand as Bill Belichick works on crafting his final 53-man roster. Even though they have one preseason game left, next week against the Giants will feature mostly camp bodies. There were certainly some surprises for the Patriots in week three, which means it's time to update the roster projection accordingly. Here we go with roster 3.0…
Players in GREEN were added to the roster this week
Players in RED were removed from the roster this week
1
Quarterback (2)
Tom Brady
Jarrett Stidham
CUT:
Brian Hoyer
Brian Hoyer not playing a snap on Thursday night can be interpreted a million different ways. Could it have been a message to teams around the NFL that Hoyer is available? By giving Stidham that kind of showcase, were the Patriots really giving him the chance to earn the backup job? I still believe the Patriots are setting up a situation where they can trade Hoyer at the cutdown deadline.
2
Running Back (6)
James White
Sony Michel
Damien Harris
Rex Burkhead
Brandon Bolden
James Develin (FB)
CUT: 
Nick Brossette
Jakob Johnson (FB)
This group hasn't had much evolution since the start of camp, which is a good thing. Damien Harris did leave Thursday's preseason game early, so that's a situation to monitor going forwards, but overall the Patriots are set at running back.
3
Wide Receiver (7)
Julian Edelman
Josh Gordon
Phillip Dorsett
N'Keal Harry
Jakobi Meyers
Demaryius Thomas
Matthew Slater
Cameron Meredith*
CUT:
Braxton Berrios
Gunner Olszewski
Maurice Harris
Ryan Davis
Damoun Patterson
*Will open season on PUP, won't count against 53-man total
Not playing Thursday night could prove very costly for Berrios, who felt 50/50 for a roster spot heading in. The Patriots will need to figure out who to place at punt returner (Jakobi Meyers looked lost at times last night), but as of right now Demaryius Thomas looks like the more valuable option, even if it will be a slow start for him in the offense. I don't think Gunner Olszewski did quite enough last night to make this team, but I wonder if his performance is enough to prevent the Patriots from getting to the practice squad. I could see a team less deep at wide receiver that's in need of a punt returner claiming him.
4
Tight End (2)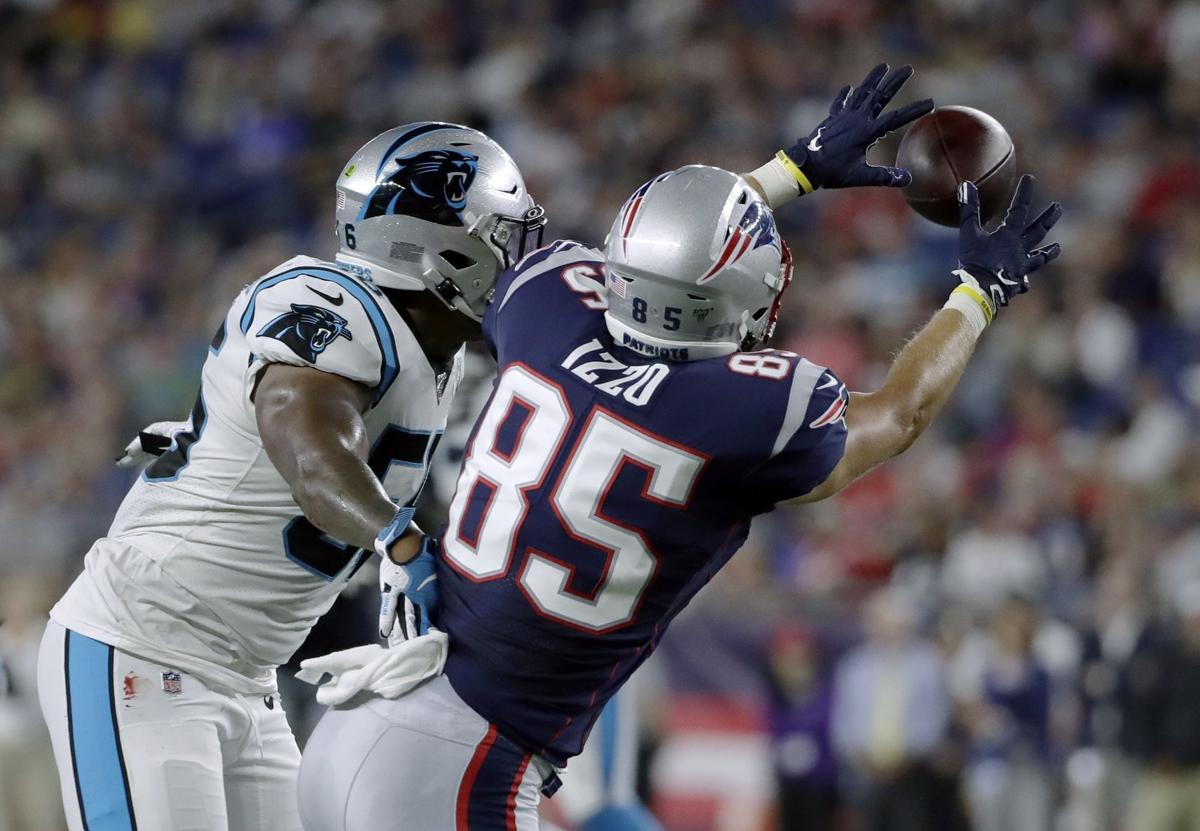 Matt LaCosse
Ryan Izzo
Ben Watson*
CUT:
Lance Kendricks
Stephen Anderson
Andrew Beck
Eric Saubert
*Will open season on Suspended List, won't count against 53-man total
Ryan Izzo stepped up in a big way last night, and the fact he did so with Tom Brady on the field is a good indication the Patriots could keep last year's 7th round pick around. The running game is going to be crucial for the Pats offense this year, so having a blocking tight end like Izzo obviously helps, and if he has a rapport with Brady in the passing game (which it certainly looked like at times last night), that's even better. Lance Kendricks had been making a strong charge towards that spot, but he took a pretty bad hit last night and was shaken up. 
5
Offensive Line (8)
Isaiah Wynn
Joe Thuney
David Andrews
Shaq Mason
Marcus Cannon
Dan Skipper
Hjalte Froholdt
Ted Karras
Yodny Cajuste*
CUT:
James Ferentz
Cole Croston
Tyler Gauthier
Martez Ivey
Cedrick Lang
Tyree St. Louis
*Will open season on NFI, won't count against 53-man total
Same group from last week. This starting five is going to be a problem for opponents all season long. The backups do bear some watching however. Dan Skipper continues to struggle in pass protection, and Hjalte Froholdt was flagged more than you'd like to see last night. Both will make the team as the best options right now, but as the Patriots look to bring players in after the cutdown, I'd expect offensive line to be the first place they look.
6
Defensive Line (6)
Michael Bennett
Lawrence Guy
Deatrich Wise
Adam Butler
Danny Shelton
Byron Cowart
CUT:
Mike Pennel
Ufomba Kamalu
David Parry
Keionta Davis
Nick Thurman
It's never a good thing to be on the field for the final two-minute warning of a preseason game, and that's exactly where Mike Pennel found himself last night. While Pennel is still an NFL talent, he's been passed on the depth chart by guys like Danny Shelton and Byron Cowart. Would the Patriots keep him and his $2.15 million cap hit around as the fourth or fifth defensive tackle, when it would save them over a million to cut him? With so much depth elsewhere, it seems hard to justify.
7
Edge (2)
John Simon
Chase Winovich
CUT:
Shilique Calhoun
Derek Rivers
Trent Harris
Low-key one of the most fun positional groups to watch on this Patriots roster. Chase Winovich flys around like a madman on the field, and John Simon is as technically sound as they come. These guys will go to work on third downs and sub-rush situations this year. Calhoun had a strong start, but an injury is still holding him out of practice, which doesn't project well for his roster status.
8
Linebacker (5)
Dont'a Hightower
Elandon Roberts
Kyle Van Noy
Ja'Whaun Bentley
Jamie Collins
Brandon King*
CUT:
Christian Sam
Terez Hall
Calvin Munson
Will be placed on IR, won't count against 53-man roster
Losing Brandon King is a special teams blow, but as far as the defense goes the linebackers will be fine. There are a couple of candidates for King's spot on the roster, but keep an eye on Calvin Munson, who has looked good both on defense and special teams this preseason.
9
Cornerback (6)
Stephon Gilmore
Keion Crossen
J.C. Jackson
Jonathan Jones
Jason McCourty
Joejuan Williams
D'Angelo Ross*
CUT: 
Duke Dawson
Ken Webster
*Placed on IR, won't count against 53-man total
Deep. Talented. Aggressive. If there were any questions left about the Patriots secondary, they were quieted for the time being after they dominated the Panthers first team offense Thursday night. When can we start talking about this as the best Patriots secondary of all time?
10
Safety (6)
Devin McCourty
Patrick Chung
Duron Harmon
Terrence Brooks
Obi Melifonwu
Nate Ebner
CUT: 
Malik Gant
AJ Howard
Brandon King's injury pulls Nate Ebner off the bubble, and opens the door for Obi Melifonwu, who has had an up-and-down camp. He's shown his potential in flashes, but at the end of the day I think his rare combination of size and speed will be hard for the Patriots to walk away from. He'll be able to play defense and special teams as well. I'm not anticipating any issues with Patrick Chung's status to start the season in light of his recent legal issues.
11
Special Teams (3)
Stephen Gostkowski
Jake Bailey
Joe Cardona
CUT:
None
Remember during Jamie Collins' first stint in New England how everybody used to make the jokes about Ernie Adams creating him in a lab beneath Gillette Stadium? Ernie may have fired up the lab equipment again to bring the Patriots Jake Bailey. It's not just how high and far he can kick the ball, but how difficult he makes it for returners to field, as seen with the muffed punt Thursday night. The one thing he does need to improve on though is holding on field goals. His laces-in spot against Carolina cost the Patriots three points.
12
Bubble Players
Last 3 on:
Obi Melifonwu
Ryan Izzo
Nate Ebner
Last 3 off: 
Brian Hoyer
Mike Pennel
Braxton Berrios