As I've stated in the past, it never ends well trying to climb into the mind of Bill Belichick. That being said, we have our first, albeit blurry look at the 2019 Patriots roster following the draft. There is still quite a bit of time before the Patriots have to cut their roster down to 53 players, and a lot will happen between now and then. With a number of positional battles looming this summer, here's a look at how the roster breaks down right now…
NOTE: Players in ITALICS are rookies
1
Quarterback (2)
Tom Brady
Jarrett Stidham
—CUT—
Brian Hoyer
Danny Etling
I think in a perfect world, the Patriots would love to keep three quarterbacks on the roster. However, injuries during camp/the preseason are going to leave some teams desperate for a quarterback, and Hoyer is a perfect trade candidate. Etling was gone the second they drafted Stidham.
2
Running Back (5)
Sony Michel
James White
Damien Harris
Brandon Bolden
James Develin (FB)
—CUT—
Rex Burkhead
Nick Brossette
Jakob Johnson*
Drafting Damien Harris perfectly rounds out the Patriots backfield, they have a guy for every situation. They've had that set-up at times for the last two years, but struggled to field it with consistency due Burkhead's inability to stay on the field. Plus, in addition to what he brings offensively, Harris had plenty of special teams experience at Alabama. That coupled with an easy-out contract makes Burkhead expendable.
*As a member of the NFL's International Pathway Program, the Patriots can keep Johnson on the roster without him counting against the 90-man total, or the 10-man practice squad.
3
Wide Receiver (6)
Julian Edelman
Phillip Dorsett
N'Keal Harry
Braxton Berrios
Jakobi Myers
Matthew Slater
—CUT—
Demaryius Thomas
Bruce Ellington
Maurice Harris
Damoun Patterson
Xavier Ubosi
Ryan Davis
Josh Gordon*
The Patriots not taking a slot receiver OR kick returner during the draft tells me they have a lot of faith in Braxton Berrios, he could be in for a big year. In addition, UDFA Jakobi Myers is an intriguing slot prospect whose size could earn him some special teams snaps, I think he sneaks on the roster early in the season. Part of the reason there is room for him is that even though he is a 'fast healer', I don't see Demaryius Thomas being ready (to the Patriots standards) to start the season. UDFA Ryan Davis is a prime practice squad candidate. The Auburn product is very raw, but has NFL upside as a receiver and punt returner.
*All indications are Josh Gordon will be suspended to start the season, so we'll leave him off the initial 53-man roster
4
Tight End (3)
Matt LaCosse
Stephen Anderson
Ryan Izzo
—CUT—
Austin Seferian-Jenkins
Andrew Beck
To me, Austin Seferian-Jenkins is the classic case of the Patriots bringing in a former high draft pick who failed to live up to the hype, to see if there is anything left. Jenkins has only played more than 10 games once (13 in 2017) and has only caught more than 21 passes in a season once (50 in 2017). I don't believe he's done enough for the Patriots to trust him. On the other hand, Stephen Anderson is a candidate for a breakout year. Bill Belichick spoke glowingly of him a few times last season when he was on the practice squad, and he already has a year in the system.
5
Offensive Line (8)
Isaiah Wynn
Joe Thuney
David Andrews
Shaq Mason
Marcus Cannon
Ted Karras
Yodny Cajuste
Hjalte Froholdt
—CUT—
Cole Croston
James Ferentz
Brian Schwenke
Jake Eldrenkamp
Cedrick Lang
Ryker Matthews
Dan Skipper
Calvin Anderson
Tyree St. Louis
Tyler Gauthier
The same core group returns from last year, with Isaiah Wynn returning from injury to replace Trent Brown. The pair of lineman draft picks round things out. The offensive line was among the best in the league last year (shoutout Scar), so no need to change much. That being said, if Ted Karras has a shaky camp, he could find his roster spot in jeopardy given he's on the least year of his contract with no dead money.
6
Defensive Tackle (3)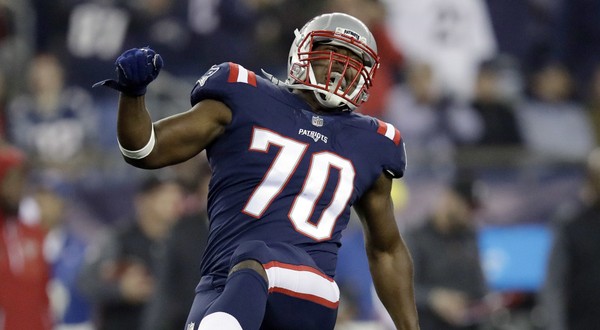 Lawrence Guy
Adam Butler
David Parry
—CUT—
Frank Herrson
Mike Pennel
Keeping it light here because it looks like the Patriots will be a little more populated than usual on the edge. Keep an eye out for a season three jump from Adam Butler.
7
Defensive End (7)
Michael Bennett
Ufomba Kamalu
Derek Rivers
John Simon
Deatrich Wise
Chase Winovich
Byron Cowart
—CUT—
Trent Harris
Keionta Davis
It's hard to justify keeping 7 defensive ends on the roster, but it's even harder justifying letting go of any of the guys on this list. Even Keionta Davis, who was on the roster last season, is a tough cut. If this position feels a little too deep, Ufomba Kamalu is probably the first name off. However, as they made clear in the draft, the Patriots are emphasizing size this year, and Kamalu is a rare combination of size, speed, and strength that the NFL is trending towards.
8
Linebacker (5)
Ja'Whaun Bentley
Dont'a Hightower
Christian Sam
Elandon Roberts
Kyle Van Noy
—CUT—
Brandon King
Calvin Munson
Terez Hall
Similar group to last year, with Christian Sam returning from injury. The 2019 Patriots linebacker class will be good, but they really have a chance to really be great; that chance hinging on how well Ja'Whaun Bentley returns from an injury that cut short his very promising rookie year. A lot of people will scoff at King being left off but 1) the Patriots drafted a number of players who will be able to contribute on special teams and offense/defense and 2) if Brandon Bolden wasn't safe last year, nobody is. UDFA Terez Hall has some fun tape, he is a clear-cut practice squad candidate, who could be in the conversation for a roster spot if injuries pile up in camp.
9
Cornerback (6)
Stephon Gilmore
J.C. Jackson
Jonathan Jones
Jason McCourty
Keion Crossen
Joejuan Williams
—CUT—
Ken Webster
This is setting up to be the Patriots strongest positional group, with all of the big names returning. There is a chance the Patriots begin transitioning Williams to safety, but we'll call him a corner for now. Ken Webster narrowly misses the roster; he'll be battling one-on-one with Keion Crossen for a spot, and Crossen's experience gives him the edge. Don't be surprised if Webster ends up on the practice squad.
10
Safety (5)
Devin McCourty
Pat Chung
Duron Harmon
Duke Dawson*
Nate Ebner
—CUT—
Terrence Brooks
A.J. Howard
Obi Melifonwu
Malik Grant
Obi Melifonwu joined the Patriots mid-season last year, but had trouble seeing the field. That on top of the Patriots drafting a player with a similar profile in Williams leaves him on the outside looking in. Also giving the core group a run for their money will be UDFA Malik Grant, who some people gave as high as a 5th round grade.
*Duke Dawson is included with this group because he was listed as a safety on all official team materials last season.
11
Special Teams (3)
Stephen Gostkowski
Ryan Allen
Joe Cardona
—CUT—
Jake Bailey
Ryan Allen beat out the punter competition last year, was a borderline-MVP in the Super Bowl, and I believe that hot streak will continue and he'll beat out the competition again. Still, with Allen on a one-year deal, expect the Patriots to try and sneak Bailey onto the practice squad. He has the potential to be a real weapon.
12
Last 3 On/First 3 Off
Last 3 On:
Ufomba Kamalu
David Parry
Jakobi Myers
First 3 Off:
Brandon King
Brian Hoyer
Malik Grant
One more note for those trying to put their own roster together. 2013 was the last time every Patriots draft pick made the 53-man roster (7 picks). It also happened in 2008 (7 picks), 2002 (6 picks).