Well, how about this as a response to a resounding loss to the Jaguars?
The Patriots in a stunning move have shipped a fifth-round pick to the Cleveland Browns in exchange for former Pro Bowl wideout Josh Gordon (Pats get a 2019 seventh-round pick back if Gordon isn't active for ten games).
A day after falling to Jacksonville, and with Tom Brady's receivers openly admitting in the post-game locker room that they couldn't separate against the Jags' terrific secondary, the Patriots add one of the league's best deep threats.
Although the sky's the limit on the field, it's important to discuss the off-field issues that will undoubtedly make or break this move for the Patriots.
In November 2017, Gordon sat down with GQ Magazine to discuss his struggles with substance abuse and his unsteady mental health.
Gordon told GQ that the issues stemmed from childhood trauma where he felt fear due to his surroundings and thus self-medicated with Xanax, codeine, and marijuana.
The substance abuse started as early as middle school according to Gordon, and have caused the former Browns star to miss entire seasons and portions of every season since his All-Pro campaign in 2013.
For the Patriots, it appears that head coach Bill Belichick feels it's worth the risk.
The Pats have made 21 different transactions at the wide receiver position since May, and nobody to this point has been able to stick in New England behind their current top three in Phillip Dorsett, Chris Hogan, and Cordarrelle Patterson.
The lack of talent and depth at the receiver position is evident, and it's even starting to get to quarterback Tom Brady who was noticeably frustrated with the lack of separation on the perimeter.
One of Brady's favorite targets, Julian Edelman, will return from suspension in Week 5. But it was unfair to expect Edelman to fix all of the Patriots' problems at the position.
Now I want to be clear on one thing: I'm not flip-flopping here.
Gordon or not, I still believe the Patriots offense would've scored plenty of points to compete for another Super Bowl this season, especially with Edelman returning.
But it would've taken a spectacular postseason from Tom Brady and offensive coordinator Josh McDaniels to make it happen, and Gordon, at least in theory, makes it significantly easier on the quarterback and the play caller.
With all that said, let's get to some of the film to illustrate what Gordon brings to the Patriots as one of the best deep threat receivers in the NFL when on the field:
Before I get into the film, I want to preface this by saying that I'm only using film from the last two seasons. There will be nothing in here from Gordon's 2013 season, that's ancient history at this point in NFL terms.
Last season, Gordon caught 18 of his 19 "catchable" targets, according to Pro Football Focus, and caught all five of his catchable deep targets.
DEEP THREAT RECEIVER
In all, Gordon was targeted on deep passes (throws of 20 or more yards) on 39 percent of his targets, which ranked second in the NFL.
After reviewing his film from the last two seasons, what impressed me the most about Gordon wasn't his physical abilities (size/speed combination), but rather the nuances on deep patterns.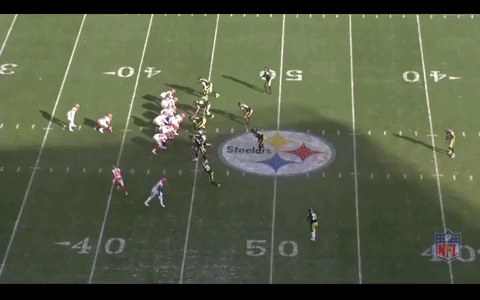 On this 56-yard touchdown, the Steelers are in a cover-3 shell with two defenders capable of playing inside-out coverage on Gordon. First, you can see how quickly Gordon eats up the cushion on the outside cornerback playing off the line of scrimmage, that's the unique physical talent that he brings to the table. But watch how he stems this deep corner route. Gordon runs a vertical stem directly at the safety in the middle of the field. That convinces the Steelers secondary that he's going to run straight up the field on a go route. He remains patience, so he doesn't give away the route before breaking it off to the corner and torching them for a long score. That's textbook deep route running.
CONTESTED CATCH ABILITY
Although Gordon's deep speed is impressive, his ability at 6-3 to climb the ladder gives Brady another receiver to throw to even when he doesn't look open.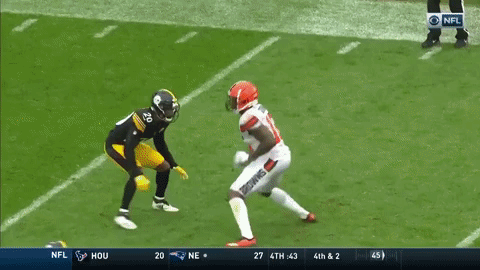 In his lone game with the Browns this season, and on his only reception of 2018, Gordon Moss'ed Steelers corner Cam Sutton on an 18-yard touchdown. Nothing fancy here. Taylor throws the ball up for Gordon along the sideline, and he elevates to a different level than Sutton while doing a great job of getting his feet in bounds. One little route running note, look at his release at the line of scrimmage to avoid Sutton's punch in press coverage. In this sense, Gordon turns into a basketball player going with the crossover move to shake Sutton at the line.
With Gordon and tight end Rob Gronkowski, the Patriots have two legitimate red zone threats that can create separation by going above the defense.
ATTACKING THE INTERMEDIATE PART OF THE FIELD
One of the underrated aspects of Gordon's game is his ability to attack the intermediate area of the field off of his vertical stems and create after the catch.
Gordon won't shake defenders in the open field, but due to his size, he's a tough guy to bring down.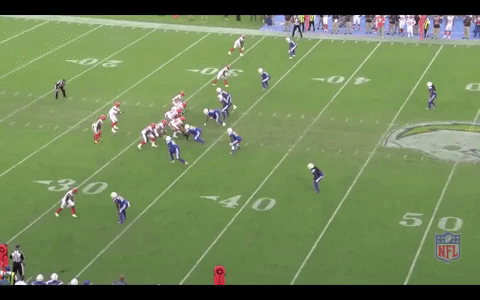 Here he is matched up with Chargers Pro Bowler Casey Hayward. Gordon's patience and ability to sell his vertical releases is fantastic. This is a hard vertical push that presents itself as a straight go route, and Gordon doesn't break it off inside or give any indication of an in-breaking route until the last possible second. Eventually, he opens his hips towards the middle of the field and quickly cuts on a dime to the inside. Then, you can see how difficult he is to bring down in the open field as he stiff arms Heyward for another ten yards after the catch. Gordon's body language often convinces corners that he's running one route when he's actually going to run another.
CONCLUSION
On Sunday, I broke down the reasons why I would stay away from Josh Gordon.
My concerns were simple, can he be relied upon to work day in and day out without any off-field hiccups?
That's a massive ask for a player that hasn't proven he can stay on the field over the last four-plus seasons, and gives me reservations about this move.
However, only surrendering a fifth-round pick in exchange for Gordon means the compensation is light, and the possibility that he could give the Patriots a perimeter threat that can separate against all types of coverages is rare at the time of year.
In other words, players of Gordon's ability on the field don't grow on trees, and it's extremely abnormal for them to come available on the trade market two weeks into the season.
In a football sense, this move has as much boom potential as any of the high-risk acquisitions Bill Belichick has made during his time in New England.
For all CLNS Patriots Videos SUBSCRIBE to our CLNS Media YOUTUBE Channel.
---
For the most in depth and comprehensive player and game analysis check out Patriots All-22 with host and Patriots beat reporter Evan Lazar. Listen and Subscribe HERE
---
Get the inside scoop on the Patriots every week on CLNS Media's Patriots Beat Podcast with host Mike Petraglia. Listen and subscribe here iTunes | Stitcher | Spotify
---
For all your Patriots content needs throughout the 2018-2019 season follow us on Twitter @PatriotsCLNS as well as Patriots Insider Mike Petraglia @trags and Patriots Beat Reporter Evan Lazar @ezlazar