Patriots starting left tackle Trent Brown has quickly become one of the most talked about newcomers on the Patriots roster.
Brown's enormous stature, and terrific training camp, had Patriots fans thinking that the team would seamlessly transition from long-time starter Nate Solder to Brown, whom the team traded for back in April.
However, over the last two preseason games, Brown has put some things on tape that have halted the hype train just a bit.
Now it hasn't all been bad from Brown, and Solder wasn't perfect either, but the reality for an offensive lineman in the NFL is that one or two blown blocks could significantly alter the outcome of a game.
Brown, has been wildly inconsistent, and according to Pro Football Focus, flat out bad earning a 59.5 overall grade through three preseason games (out of 100).
For reference, Nate Solder received a 75.5 grade from Pro Football Focus last season.
Below, I'll take you through some of the troubling developments that Brown has put on tape in weeks two and three of the preseason:
PASS SETS
The key to playing offensive line at a high level is having consistent fundamentals and technique, and Brown's technique tends to come and go at times.
In my evaluation of Brown's 2017 tape, his pass sets were usually terrific but he has struggled at times in the early going this season.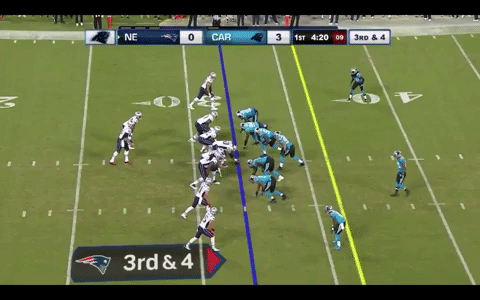 Here, Brown is slow to get his upper body vertical out of his pass set, which causes him to lose the half-man battle with the defensive end, and he gives up the edge. Brown typically gets significant depth in his kick-slide which allows him to cut down angles on a regular basis, but on this play, he stalls out of his stance is beat by the speed rush. I'm optimistic that this was just one bad rep as this usually isn't a problem for Brown. But you never like to see a player fail at something that you know they can do easily with the right amount of focus on technique.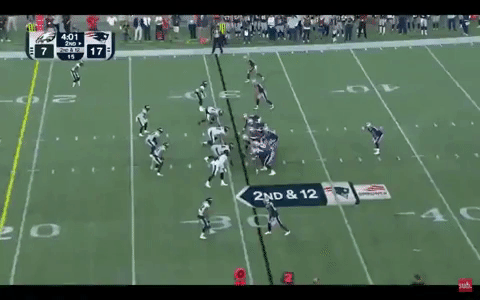 Against the Eagles, Brown had trouble blocking Philly defensive end Steven Means, especially in the second quarter. On this play, Brown is going to use a hop-step to cut off the angle for Means around the edge. But, Means does a nice job of keeping his head up and diagnosing the aggressive set by Brown, and cuts his rush inside. Brown has good foot speed for his size, but he's out of position oversetting on the play to the outside, and can't move his feet to stop the inside penetration from Means. This was an impressive play by Means to quickly recognize the change up that Brown threw at him with his jump-hop, but we see Brown's technique break down again as he drops his hands and doesn't move his feet allowing a free run to Tom Brady.
Screens/Cut Blocks
The Patriots blocking schemes up front are extremely complex and ask a lot out of their offensive lineman, including making blocks on the move and executing certain techniques that take a lot of flexibility and athleticism.
A major responsibility for any offensive lineman that plays on the Patriots is making blocks on the second level in the screen game, which is a difficult task for a nearly 400-pound offensive lineman.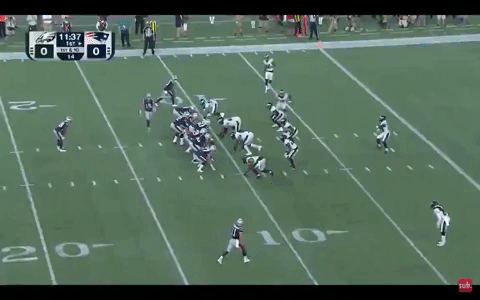 In the first quarter against the Eagles, the Patriots ran this wide receiver screen down by the goal line to Phillip Dorsett. The play is designed for Brown to lead the way for Dorsett but the left tackle doesn't make a decisive block on the play which forces Dorsett to hesitate and he gets tackled for no gain. Dorsett was likely expecting Brown to kick out the perimeter corner, clearing a path to the inside of Brown to the end zone for Dorsett. Brown overruns the block, and doesn't even get his hands on the defender to clear a path to his outside shoulder for Dorsett, and the play is blown up by the Eagles defense. I would like to see Dorsett make the defender miss on his own or hit the jets right away jamming the ball in that gap, but he can't pick a side to run with the ball until Brown gives him a clear indications which direction he's blocking his man.
Another technique that the Patriots frequently implement is the cut block, when an offensive lineman cuts a defensive lineman at his knees to get him on the ground.
Typically, this technique is used on quick passes around the line of scrimmage to get a defensive lineman out of the passing lane.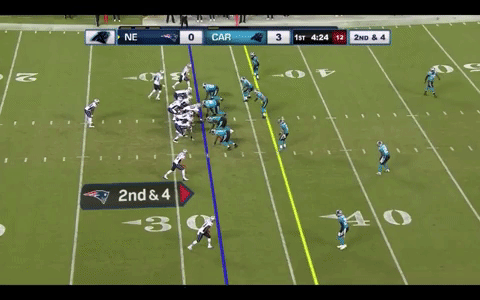 Here, the Patriots want to run a quick out to tight end Rob Gronkowski at the sticks to pick up the first down. Brown, needs to get his man on the ground to avoid exactly what ends up happening, a batted pass at the line of scrimmage. Brown doesn't get low enough on the block attempt, contacting the Mario Addison's waist rather than his knees, and bounces right off of him instead of getting him on the ground.
CONCLUSION
On the surface, this review might come across as someone cherry picking four plays where Trent Brown struggled to make a point that he's bad at football.
I don't think Trent Brown is bad at football. The issue here isn't with ability it's with reliability.
Brown, as I've written and broken down many times before, has all the physical tools to give the Patriots solid production at the left tackle position.
However, in his first three years in San Francisco, Brown flashed all of the physical traits that had Patriots fans and media swooning about the left tackle in the early part of training camp.
He's massive, he's very athletic for his size, he has a solid understanding of the game, and he has been a solid pass protector throughout his career.
But the narrative with Brown in San Fran was always that he'd look like an All-Pro tackle in one game before completely flopping the following week.
And we've seen the streaky play that 49ers followers talked about throughout the preseason.
It isn't time to hit the panic button yet, but the Patriots no longer have their insurance policy in rookie Isaiah Wynn, meaning the pressure is squarely on Brown's shoulders to protect Tom Brady's blindside.