Mohamed Sanu was on his way to Los Angeles for a change in scenery when news broke that the Patriots signed former NFL MVP quarterback Cam Newton to a one-year deal. 
https://www.instagram.com/p/CCIIs8pD7ps/?utm_source=ig_web_copy_link
In a flurry of social media posts, the two Patriots teammates shared evidence that they were working out together at UCLA a day after Newton unofficially joined the team. 
"It happened by chance," Sanu's trainer Drew Lieberman told CLNS Media. 
"The day Cam signed, they were FaceTiming each other just talking about how excited they were, and Cam was like 'what are you doing this week?' Mo said he was going to LA for the week, and Cam said, 'Oh shoot, I'm about to be in LA too! Let's link up.' We ended up getting a couple of days of reps in with Cam," Lieberman said. 
"Everyone is [excited] about Cam. You want to bring other great players around. I don't think anyone knows how the whole quarterback thing is going to shape up, but you're talking about an MVP, talking about a huge personality, and a great leader," Lieberman continued. 
Both Sanu (ankle) and Newton (foot) had offseason surgery, and the two are through rehab and are now focusing on ramping things up to game speed in preparation for training camp.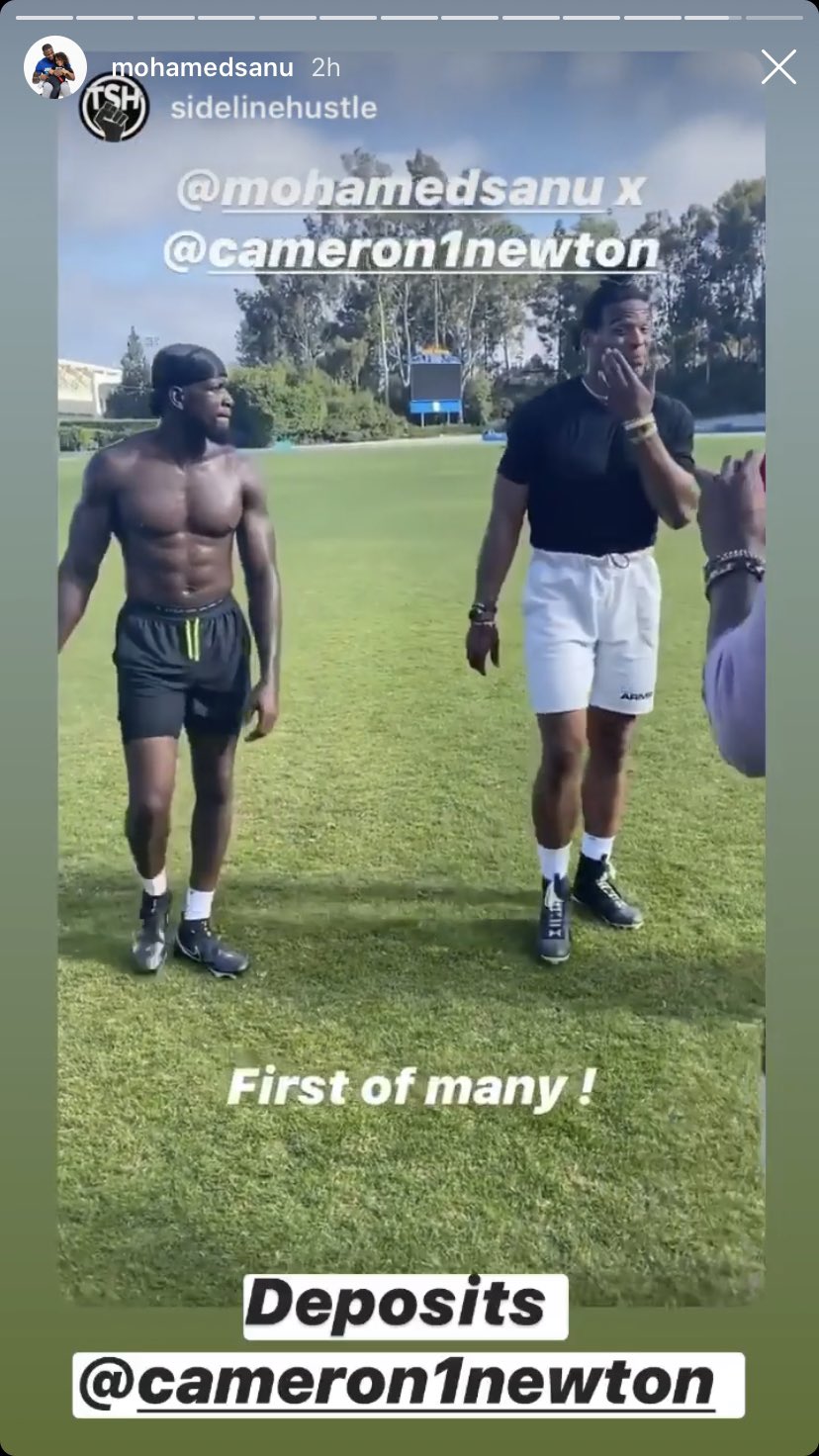 Sanu, an Atlanta native, and Newton, who was born in Atlanta, ran in similar workout circles in the area but are now teammates and are starting to build chemistry both on and off the field. 
Lieberman said the two were impressive in workouts, but it wasn't the football aspects he was watching during the Los Angeles sessions with the two Patriots stars. 
"The biggest thing I was looking for wasn't even football stuff. It was more like how do they vibe together, what was the chemistry like, and what's the overall energy? That part of it was awesome," said Lieberman. "Cam threw the ball well, and Mo ran some good routes."
https://twitter.com/sidelinehustle/status/1278382502604754946?s=20
Lieberman's Twitter (@SidelineHustle) is filled with fantastic videos of Sanu including highlights from his workout with Newton and others that should have Pats fans excited about the veteran wideout this season.
Although Sanu's workouts with Newton went viral, Lieberman says that the Pats wideout is also in constant contact with second-year quarterback Jarrett Stidham. 
And the two have gone back and forth, commenting on each other's social media posts. 
"I know they've been in touch quite a bit. I know they talk all the time, but we haven't done stuff together yet. We are trying to do that before camp starts. I know they talk almost every day." 
In the offseason, Lieberman lives with Sanu in Atlanta as the Pats wideout surrounds himself with a team of expert trainers that includes speed coach Kyle Meadows and former NFL receiver Hilton Alexander. 
https://twitter.com/sidelinehustle/status/1279862274774073344?s=20
Lieberman, who has worked with Sanu for the past two offseasons, sees a different side of the Pats receiver after an injury-plagued 2019 campaign led to lackluster results. 
"This is the first time that he has a kind of a killer savage mentality every single day. He has a bit of a chip on his shoulder."
"The injury plus not having a great year were both positives for him because I think not having a great year kind of gave him a chip, and then the injury forced him to sit back and reflect."
Since he was rehabbing from offseason ankle surgery, Sanu focused heavily on film study, reviewing tape from last season. 
"The biggest thing this offseason has been his film study. I watched all 16 games of his last year and created an organized film library of different techniques, different releases, different hand combat, different ways to catch the football—all these different techniques and nuances he used in his games. We studied the hell out of that," Lieberman told me. 
"Then, everything we do out on the field whether we are training or catching balls, everything is filmed. Today we worked on releases, and it's all filmed, so we'll sit down and review everything. The biggest place we probably made waves was in the film room."
Sanu is back on the field now working on Lieberman's specialty, route running, as he continues to progress positively from offseason surgery. 
"My specialty is teaching route running. Teaching you how to get open, strategies to use at the line of scrimmage, different footwork patterns to help you get in and out of routes, so we have a different focus every day," Lieberman explained. 
On the docket for Monday were two football-specific sessions with Lieberman working on route releases, speed training with Meadows on the track, a hike up a mountain for resistance training, and a film session to correct mistakes.
"We wake up every morning at 7 a.m., and we work until 10 p.m. It's definitely a reinvented version of him, and it'll be exciting to see the results of all of this. This is definitely a different guy."
When the Pats wideout isn't working out with Lieberman, Sanu turns to former NFL wide receiver Hilton Alexander to work on his craft. 
Alexander played three seasons in the NFL with the 49ers and Saints before starting RouteKing Training LLC in Atlanta, where he worked with Sanu for the past three offseasons. 
"Mohamed is on a mission," Alexander said in an interview with CLNS Media. 
"He's going into year nine, he's 30 years old, but he's training like it's his first year like he has something to prove. His work ethic has always been one of the best I've been around, but he's taking that thing to a whole other level now. He looks phenomenal."
Alexander says that Sanu draws inspiration from talks with Tim Grover, who trained Michael Jordan, and Kobe Bryant, among others. 
"He's got the right mindset. His mentality is if you think of a Kobe Bryant or a Michael Jordan, not talking about skill level, talking about mindset. He has adopted that relentless mentality. He's taking this offseason so seriously because he wants to prove a point."
Sanu's offseason ankle surgery didn't stop him from working on his game by visualizing routes and catching objects sitting down. 
https://www.instagram.com/tv/CBI-BSeJnxC/?utm_source=ig_web_copy_link
"I'd go over there every day, and he would catch 1,000-plus footballs, 500-plus tennis balls, and no exaggeration, he's well over 75,000 catches this offseason. We did a lot of things working on his hand-eye coordination," Alexander told me. 
Sanu's team also has him using one of Bill Belichick's favorite methods, hill running, as a significant part of his workouts.
https://www.instagram.com/p/CBloaJpJjTH/?utm_source=ig_web_copy_link
"That uphill resistance will help you with your acceleration and your overall speed and running form. Now, you have to over-exaggerate your stride to get up that hill. It's ten times harder than doing it on flat land, and I also put a band on him, adding extra resistance."
"He's going to be way more explosive in his releases and in his ability to get separation from defenders, and that hill is going to be a big bonus to help him get where he wants to be," Alexander stated. 
Mohamed Sanu is working out with Redskins QB Dwayne Haskins pic.twitter.com/OpcTpN5ytw

— Devon Clements (@DevclemNFL) June 19, 2020
Along with Newton, Sanu caught passes this offseason from NFL quarterbacks Tyrod Taylor and Dwayne Haskins, among others where the Pats wideout's route running skill shines. 
"Sanu does a great job of getting in and out of his breaks quickly, that's one of the things that separates him. He might not be the fastest receiver, he might not even be the quickest receiver, but his ability to start and stop and get in and out of his break without stopping is unmatched."
Audio breakdown #2. Sanu defeating press coverage on the outside. Again, understands to run his dig route that he needs to move the corner at the line to open up the inside release. Gets back into the corners body at the top, snaps it off, makes a catch in traffic. #Patriots pic.twitter.com/VC0MN6y1Ih

— Evan Lazar (@ezlazar) June 23, 2020
"I've worked with a lot of people, but he has that innate ability to get in and out of his break quicker than most receivers, especially with his size. You're looking at a guy that's 6-foot-2, 200 pounds that can move like that with that type of speed and agility. It's a blessing that he has all those tools," Alexander proclaimed. 
Alexander also gushed about Sanu's quickness and smarts in his route releases at the line of scrimmage. The Route King backed up the Footwork King's praise of Sanu, as fellow trainer Rischad Whitfield told me that the veteran has what 2019 first-round pick N'Keal Harry is missing. 
"Sanu has what N'Keal needs to have. Sanu knows how to get separation, he's very quick at the line of scrimmage, and off his break, off his routes. I think that's one of the reasons they went out and got him," Whitfield said. 
Expanding on Whitfield's comments, Alexander explained what makes Sanu's releases so successful and how he creates separation at the line.
The #Patriots didn't get the best of Mohamed Sanu last season. Inspired by his workout videos with @routeking_1, took a look back at the film to find a smart and efficient route runner that understands how to get open at the line of scrimmage (audio breakdown #1). pic.twitter.com/UYlXlyN5TT

— Evan Lazar (@ezlazar) June 23, 2020
"I'm going to go out on a limb and say he's the only receiver that I've worked with, that I've seen, that can get separation at the line of scrimmage without using his hands," Alexander said.
"We work release drills, and everyone else is swim moves, they're chopping and ripping and doing all these things; Mo never uses his hands, yet he continues to get separation. He uses his feet. He knows how to attack angles. He understands leverage."
"He's always moving forward. He's always moving toward the defensive back. That makes them uncomfortable, and he puts pressure on them right away," Alexander said, breaking down Sanu's game. 
Entering his first full season with the Patriots, Sanu carries a 2020 cap hit of $6.5 million with a potential cap savings of roughly $6 million if cut or traded before the start of the season. 
The Patriots didn't trade Sanu at the start of the league year or on draft weekend, continuing to give off signals since the combine that he's a part of their plans for the 2020 season.
Patriots head coach Bill Belichick also noted the second-round pick the team traded to acquire Sanu after New England passed on a historically deep wide receiver class in April's draft.
Along with the belief that Sanu can help the team win games, the 30-year-old veteran was also a helpful aid for 2019 first-round pick N'Keal Harry and second-year receiver Jakobi Meyers. 
With Sanu joining the team mid-season, he became a regular at the rookies' post-practice workouts with former Patriot Troy Brown, where the vet schooled up the young Pats wideouts. 
Sanu's future with the cap-strapped Pats, who currently have the least amount of cap space in the league, will hinge on his ability to hold off younger, more affordable options with seven first-and-second-year receivers on the roster. 
Approaching this offseason with a different mentality and focus, Sanu is out to prove last year was an anomaly.