George Floyd's murder by members of the Minneapolis Police Department sparked several high-profile NFL players, including Patriots cornerback Stephon Gilmore, to join the fight against racism and police brutality in the United States. 
"A message on behalf of the nfl" pic.twitter.com/iilDpnZfyV

— Michael Thomas (@Cantguardmike) June 5, 2020
In a viral social media video led by the Saints' Michael Thomas, players implored the NFL to condemn racism and accept their role in suppressing them from peacefully protesting while allowing players to do so moving forward. 
NFL commissioner Roger Goodell's statement in response potentially changed the league's role in promoting the anti-racism movement through peaceful player protests. 
We, the NFL, condemn racism and the systematic oppression of Black People. We, the NFL, admit we were wrong for not listening to NFL players earlier and encourage all to speak out and peacefully protest. We, the NFL, believe Black Lives Matter. #InspireChange pic.twitter.com/ENWQP8A0sv

— NFL (@NFL) June 5, 2020
"We, the National Football League, admit we were wrong for not listening to NFL players earlier and encourage all to speak out and peacefully protest," Goodell said. 
In roughly ten seconds, Goodell walked back years of league protocol on peaceful protests, including a blackballing of former 49ers quarterback Colin Kaepernick since 2017. 
https://www.espn.com/nfl/story/_/id/29315784/encourage-team-sign-colin-kaepernick?linkId=90934181
The commissioner then backed those statements up by telling ESPN's Mike Greenberg in a recent interview that "I encourage" a team to sign Kaepernick.
At the start of the 2016 season, Kaepernick began kneeling during the national anthem to protest the same social issues that are sweeping our country four years later. 
First, Kaepernick sat during the anthem. But former NFL long snapper and ex-green beret Nate Boyer talked him into changing the peaceful protest to kneeling out of respect for the military. 
To avoid a release from the 49ers, Kaepernick opted out of his contract after the 2016 season and hasn't received an NFL offer since as an unrestricted free agent. 
Kaepernick filed a grievance against the league in the Fall of 2017 accusing owners of colluding by not signing him in which Kaepernick and former teammate Eric Reid settled with the NFL on a figure reportedly under $10 million. Reid has since gotten back into the league. 
Now that the NFL changed its public stance on the same issues that Kaepernick was protesting four years ago, teams should treat him like any other free-agent quarterback on the market. 
However, the racism in our country that Floyd's wrongful death shed light on also showed the unfortunate complications that still exist with Kaepernick in the public eye; it wasn't about disrespecting the flag, but many twist the meaning behind his protest. 
Still, the NFL is now openly admitting to doing wrong by Kaerpenrick, so it's time for him to sign if he can play at a level that meets league standards at age 32. 
KAEPERNICK'S 2019 WORKOUT
In November 2019, the league contacted Kaepernick's reps with an offer to work out for NFL teams with a two-hour deadline for a decision. 
Kaepernick decided to organize his own workout at an Atlanta-area High School with eight NFL teams in attendance: Falcons, Lions, Chiefs, Jets, Eagles, 49ers, Titans, and Redskins. 
The Patriots and other teams were planning on attending, but a last-second venue change by Kaepernick's camp the day of the workout led to conflicts for many organizations. 
During the workout, scouts in attendance said that Kaerpernicks's arm looked strong, and he was moving well, but video shows that Kaepernick's footwork in his drops was messy. 
Instead of even steps throughout his drop, Kaepernick was firing his feet in choppy steps at the top of his drop, which could lead to poor accuracy and control on his throws.
Footwork is rhythmic and improves with repetition. As someone that's three years removed from football, it's understandable that Kaepernick's feet were sloppy.
There isn't a ton to glean from throws against air as the only evidence of Kaepernick's current abilities. But he showed enough to spark interest, yet nobody came with an offer.
KAEPERNICK'S 2016 FILM REVIEW
The only film we have to go off of with Kaepernick is from his final season with the 49ers in 2016, where the team went 2-14 (1-10 in Kaepernick starts) under former coach Chip Kelly. 
Although he's now three years older, Kaepernick displayed the necessary tools to be on an NFL roster, albeit with some clear limitations. 
Kaepernick's stat line was respectable, especially since he had the worst supporting cast in the NFL, including a dead-last offensive line and receiving group, per Pro Football Focus grading. 
The then-29-year-old only completed 59.2 percent of his passes at 6.8 yards per attempt, but had an excellent 16-4 touchdown to interception ratio and ranked 24th in QBR.
Kaepernick wasn't overly efficient by most metrics ranking seventh-worst among quarterbacks in PFF grade (57.8) and 30th in Defense-adjusted value over average (DVOA).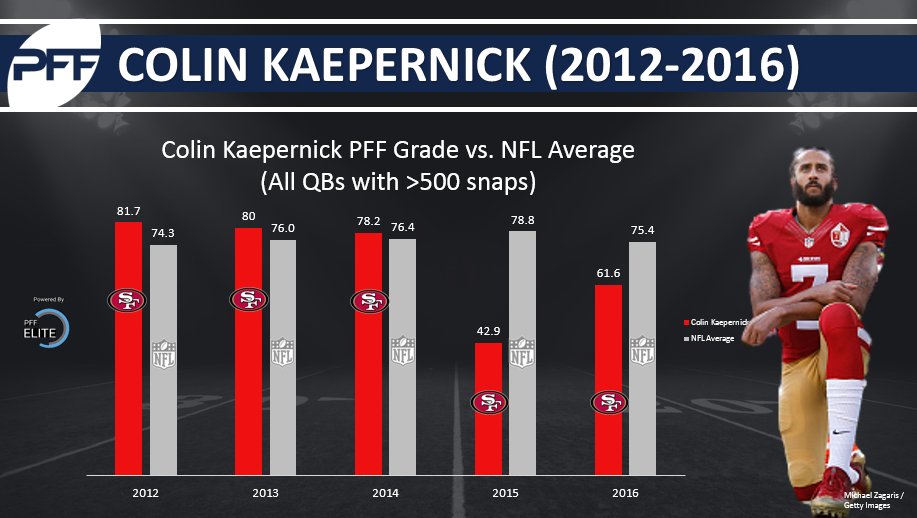 Kaepernick was also dead-last in PFF grade in 2015, and he ranked 37th out of 38 qualified quarterbacks in Next Gen's completion percentage above expectation metric (CPOE) in 2016.  
Based on CPOE, Kaepernick should've completed 65.1 percent of his throws but managed to connect on 59.2 percent, ranking ahead of only teammate Blaine Gabbert for the league's worst differential. 
Still, he passed the eye test with good athleticism and running ability, decisive decision making, solid reading of coverages, eye manipulation, and arm talent. 
Here, the Niners have a sail concept set up to Kaepernick's right against a single-high structure defensively. The offense has a clear out to remove the boundary corner, a flag or corner route by the number two receiver in the slot, and a flat pattern by number three inside. 
Kaepernick initially reads the safety in off-coverage over the slot. The slot defender takes the flat, declaring it as cover-three, and with the clear out taking the boundary corner upfield, Kaepernick knows there's space along the sideline. He makes a quick decision to throw the flag pattern against an out-leveraged inside linebacker for a nice gain. 
Here's another example of a good leverage throw by Kaepernick. Kap has a tight end to his left on a spot route with a shallow crosser coming from the opposite side. In this case, the zone defender over the tight end is responsible for picking up the crossing route. 
As the play rolls, linebacker Mark Barron jams tight end Garett Celek at the line and locates the crossing pattern. Celek sits in the void of space, and Kaepernick hits him with a pass purposely thrown away from the closing linebacker for another completion. 
Kap still had the arm talent to drop throws into downfield passing windows as well. Here, the Niners run a vertical from the slot with the outside receiver motioning into a stack. The boundary corner leaves a little room falling underneath the corner route from the motion receiver, and the vertical holds the half-field safety in the middle of the field. Kaepernick throws with just enough touch and zip to drop the ball into the cover-2 hole along the sideline. 
Along with reading coverages and arm talent, Kaepernick pulled defenders out of position with great eye manipulation on several completions at the end of the 2016 season. 
On this play, the running back releases into the flat with a double slant combination to Kap's left. First, Kaepernick sells a pass to the inside slant with a hard fake, causing Seahawks linebacker K.J. Wright to jump the slant. With Wright biting on the fake, it leaves the running back uncovered for a long gain. 
Here's another example from the same game of Kaepernick messing with Wright to create a passing lane. This time, the initial coverage is good, with Wright dropping into a hook zone in the middle of the defense, so Kaepernick improvises. By scrambling outside the pocket while looking to his right, Kaepernick gets Wright to flow with the quarterback and vacate his zone, and Kap flips the ball across his body to an open receiver in Wright's zone. 
Kaepernick demonstrated an ability to throw from different arm angles while using his athletic gifts and play-action to create passing windows.
The former 49ers quarterback saw an increase with play-action in yards per attempt, going from 6.5 yards per pass attempt without play-action to 7.6 when he threw off of play-action. 
On this play-action pass, Kaepernick sells the hard fake, getting the linebackers to step up into their run assignments. With the underneath defenders pulled out of coverage by the fake, Kaepernick uses a three-quarters release to throw a pass in-stride to his crossing receiver behind the second level of the defense. 
Later on, the Seahawks don't fall for the play fake, and their linebackers stay back in their coverage assignments. With all of his primary receivers covered, Kaepernick doesn't panic and smoothly gets to his running back on the check down to set up a long catch and run. 
Kaepernick was also a dangerous runner still, averaging 6.8 yards per rush and leading all quarterbacks in Football Outsiders' defense-adjusted yards above replacement metric in 2016. 
Although Kaepernick was inconsistent with his downfield accuracy, he is capable of facilitating offense in the right system with the rest of his skill set. 
PATRIOTS FIT?
Lastly, let's discuss Kaepernick's fit in Bill Belichick and Josh McDaniels's Patriots offense. 
Kaepernick's skill set is very different from Tom Brady's, and is also pretty different from Jarrett Stidham's, although Stidham and Kap are both more mobile than the GOAT. 
Stidham ran a Kaepernick-like offense at Auburn. But the Pats QB wasn't a good fit in Gus Malzahn's scheme and will benefit from a more pro-style system in the pros. 
Belichick and McDaniels are two of the brightest minds in football and two of the best at shifting their system to their personnel. But a Kaepernick-led Patriots team would be a drastic change. 
In his final year with the 49ers, Kaepernick only attempted five out of his 331 passes from under center, making most of his throws from the gun (304) and a few from the pistol (22).
The play Brady talks about here is a play-action concept where the #Patriots typically pull the backside guard. They'll either the TE on the seam or now without Gronk it's become more the slot WR on an over/crosser. Unreal that play came from Peyton. pic.twitter.com/67xD1qjmGL

— Evan Lazar (@ezlazar) December 28, 2019
Last season, Brady attempted 166 throws or 27 percent from under center, and the plan is to keep heavy personnel packages and hard play-action in the offense with Stidham at the helm. 
Although Kaepernick and the Pats could meet in the middle stylistically, trying to fit a square peg in a round hole doesn't make sense for either side.
During his time in San Francisco, the 49ers adopted Kap's college coach Chris Ault's Nevada offense by bringing the pistol formation to the NFL to put him in a position to succeed. 
#Ravens can mix in some load option with QB Lamar Jackson vs. the #Titans.

• 21 personnel (2RB, 1TE)
• 2-back Pistol set
• Read the edge defender (keep/pitch)
• FB leads on the safety@NFLMatchup @gregcosell @jamisonhensley pic.twitter.com/6ejns5G3DR

— Matt Bowen (@MattBowen41) January 11, 2020
In 2019, former Niners offensive coordinator and current Ravens OC Greg Roman brought the pistol to Baltimore for league MVP Lamar Jackson to thrive in a similar scheme. 
Belichick going on about the pistol was exactly what we needed out of his Friday press conference. Lot of Lamar in the pistol coming on Sunday night. #Patriots #Ravens pic.twitter.com/K8jhLcv7FH

— Evan Lazar (@ezlazar) November 1, 2019
Belichick gave a scouting report on the pistol before New England's matchup with the Ravens last season, saying, "the advantage is that you can go either way. Once the back offsets, you're limited in the number of plays that you can run to both sides. When he's in the pistol, both sides are the point of attack."
Due to Brady's lack of wheels, the Patriots hardly ran any pistol sets over the last 20 seasons or the RPO, read-option schemes we see with mobile quarterbacks. 
Under Kelly in 2016, Kaepernick was in the pistol 24.8 percent of the time, while running either an RPO or read-option concept on 44.2 percent of his plays (source: Pro Football Focus). 
Again, the Patriots can change their scheme to fit Kaepernick. But with an abbreviated offseason, a potentially shorter training camp, and a commitment to Stidham who doesn't play the same way as Kap, there are several hurdles to making him successful in New England. 
There's also the cap angle, where the Patriots are strapped for cash this offseason. Currently, they have the least amount of cap space in the league at $650,989, according to cap wizard Miguel Benzan (aka @PatsCap). 
New England passed on several veteran quarterbacks this offseason, such as Jameis Winston, Andy Dalton, and still aren't moving on Cam Newton to roll with Stidham and system fit Brian Hoyer. Hoyer, a 12-year veteran with five of those seasons coming in New England, also serves as a mentor to Stidham as he enters his first season as an NFL starter.
Kaepernick's contract demands aren't lofty, but it has to be worthwhile, and likely more than Hoyer's $1.05 million cap hit, making it a challenging fit with the Patriots all together. 
After Tom Brady's departure, one can make a case for Kaepernick to join a stable organization capable of handling the media circus that happens to need talent at quarterback. 
Is Kaepernick better than Hoyer? Probably. Should he be on an NFL roster? Absolutely. But it's unlikely that he ends up with the Patriots unless he's an absolute bargain.