FOXBORO — With their top selection of the 2017 NFL Draft, the Patriots selected pass rusher Derek Rivers out of Youngstown State in the third round.
Rivers holds the Youngstown State career sack record and ranks in the top five in FCS history with 41 career sacks.
However, his NFL career hasn't gone as planned as Rivers lost his entire rookie campaign after tearing his ACL in the preseason.
Rivers is now healthy, which he called "a blessing" but the 83rd overall pick in the 2017 draft has only been active for one game this season.
"No, not at all," Rivers said when asked if the Patriots coaches told him why he isn't playing much this season. "I don't ask. We don't worry about any of that. We just take it week by week. My job is to go out there and play hard and to get better. That's what I've been doing."
"Obviously, Everyone wants to play more. But like I said, whatever they ask me to do that's what I'll do."
Back in September, head coach Bill Belichick was asked about Rivers, and the coach praised Rivers' improvement this season.
"He's getting better every day," Belichick said. "[He] really pushes himself, he's made a lot of improvement. He's a good player. Definitely going to help us."
Rivers hasn't helped the Patriots much on game day in his second NFL season, but his teammates and coaches are taking notice of his work ethic in practice.
"He's good, man. He's coming along," Patriots defensive end Deatrich Wise said. "He has been doing some good things on the field when he's out there. He's been doing some great things."
In the preseason, Rivers ranked fourth on the team with nine quarterback pressures and flashed the athleticism that made him pop on his college tape.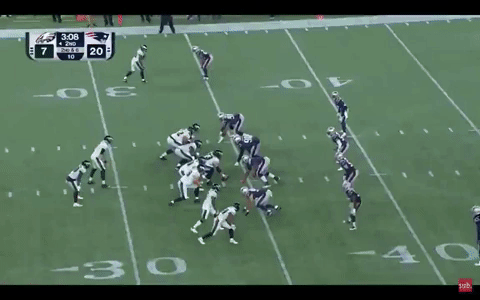 On his lone sack of the preseason, Rivers' abilities were on full display as he showed his explosiveness off the snap and bend around the edge. Rivers gets on the tackle quickly, and then utilizes a punch and dip move to subtly pull the tackle towards him while dipping his inside shoulder towards the quarterback.
But there are things on his tape in the preseason and his 13 snaps against the Lions in Week 3 that explain why Rivers has been inactive in four of the Patriots' first five games of the season.
A few of those issues involve poor technique and fundamentals.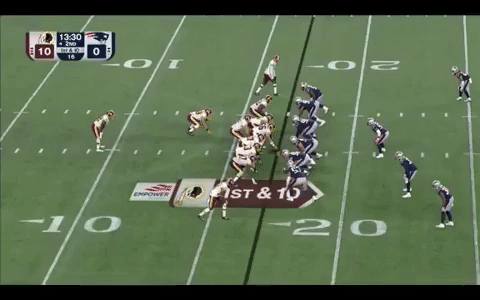 Rivers, who is on the left side of the Patriots' defensive line, has a tendency both against the run and as a pass rusher to duck his head out of his stance. That causes Rivers to slip off his blocker here, and he loses his balance, and it makes it extremely easy on the blocker to use Rivers' momentum against him to take him to the ground.
Another area where the young Rivers can improve fundamentally is with his technique on defensive line stunts, which are a significant aspect of the Patriots' pass rush strategy.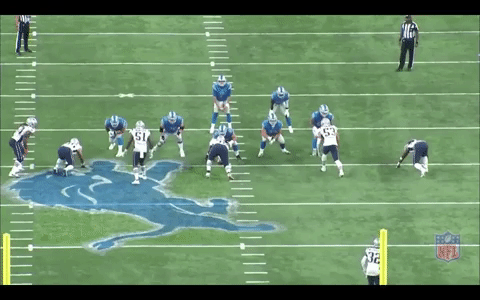 On this play against the Lions, defensive tackle Adam Butler does his job by occupying two blockers as the penetrator on the stunt. However, Rivers slows his forward momentum by taking a step backward and doesn't do what the Patriots would call "wrapping tight" on the stunt. If Rivers follows behind Butler's penetration, he'll wrap around the offensive line and close on Matthew Stafford before he can release the football. Instead, the action takes too long to develop, and Rivers doesn't affect the passer.
There are also some things that Rivers can improve on that will come with more experience in the league.
Rivers admitted that in some ways it feels like his rookie season saying, "for certain things yes [it feels like his rookie season]. For other things no. This is my first real season, so that has its rookie feels."
At this stage of his career, Rivers lacks a plan on every pass rush rep and doesn't have a counter move when a blocker stops his initial progress.
Here, Rivers rushes on the right tackle and looks like he isn't entirely sure what move he wants to use to beat the blocker. If he's going for a bull rush, Rivers needs to play with better arm extension and hand usage, but he allows his arms to bend up against his chest and he generates no power from his rush. Then, he has no counter move to get off the block once Lions right tackle Rick Wagner stops his progress. Approaching each pass rush repetition with a clear plan and a counter move would go a long way for the second-year defensive end.
Rivers gave a typical Patriots answer saying, "[I can improve] my whole game. 100 percent my whole game. Everyone in this locker room has things they can improve on. Nobody is a perfect player. Nobody ever will be a perfect player."
And Patriots defensive end Trey Flowers, who had a similar injury-plagued rookie season where he was only active for one game, had some good advice for his teammate.
"Just keep doing what he's doing as far as working hard and coming to practice, and showing what he can do in practice," Flowers said. "I think that's the biggest thing, performing in practice and putting yourself in a situation where you can contribute."
As Belichick noted back in September, and his teammates echoed in the locker room this week, the Patriots expect Rivers to contribute this season.
However, his current standing on the depth chart is likely due to his issues presenting themselves at practice as they did in the games Rivers has played in this season.
For all CLNS Patriots Videos SUBSCRIBE to our CLNS Media YOUTUBE Channel.
---
For the most in depth and comprehensive player and game analysis check out Patriots All-22 with host and Patriots beat reporter Evan Lazar. Listen and Subscribe HERE
---
Get the inside scoop on the Patriots every week on CLNS Media's Patriots Beat Podcast with host Mike Petraglia. Listen and subscribe here iTunes | Stitcher | Spotify
---
For all your Patriots content needs throughout the 2018-2019 season follow us on Twitter @PatriotsCLNS as well as Patriots Insider Mike Petraglia @trags and Patriots Beat Reporter Evan Lazar @ezlazar