FOXBORO — As the Patriots prepare for the Kansas City Chiefs and quarterback Patrick Mahomes, they'll need every advantage they can find to contain arguably the best offense in the NFL.
One of the main focuses this week for the Patriots defense will be containing Mahomes in the pocket, as the second-year quarterback is lethal with his legs.
Although some of Mahomes' box score stats favor his work inside the pocket, his film suggests that he's significantly more dynamic as a passer when he's on the move.
This season, Mahomes' passing grade is an elite 93.0 out of 100 from outside the pocket, but that grade drops to an above-average 78.3 from inside the pocket.
Mahomes' 93.0 grade leads the NFL through five weeks (min. 25 dropbacks), and his 50 attempts from outside the pocket also pace the league.
And the explosive plays that we see from the Chiefs' offense every week often come when Mahomes breaks the pocket. His average depth of target increases from 9.0 yards per attempt to 14.2 when he gets on the perimeter.
"Keeping him in the pocket, being disciplined in our rush lanes, containing him. Same old, same old against mobile quarterbacks,' Patriots defensive end Trey Flowers said about defending Mahomes.
The Patriots defense hopes that they can tap into past experiences facing other mobile quarterbacks this season to slow down the red-hot Chiefs quarterback this week.
"Most definitely," defensive end Deatrich Wise said when asked if those previous battles will help the Patriots on Sunday. "Preseason we played Cam [Newton] and the first week of the season we played Deshaun [Watson]. Mahomes is similar to those type of guys. Very mobile but can also throw, so you have to affect him every play and keep him in the pocket."
Below, I will go through some of Mahomes' tape to illustrate how the Chiefs use his mobility and what makes him so dangerous on the move, and also highlight some do's and don'ts from the Patriots defense this season.
SCRAMBLE DRILLS
Most of Mahomes' jaw-dropping highlights this season have come on broken plays where the Chiefs offense improvises to create huge gains.
These are the types of plays that are often referred to as "schoolyard" shenanigans, as the structure of the play goes out the window and players survive on instincts. Here's a highlight reel play from Mahomes that many of you have probably already seen. Mahomes' elusiveness in the pocket and instincts as a runner are special. At first, he scrambles backward, turning his back to the defense and going away from his arm side, which is usually a quarterback no-no. But Mahomes is so slippery and quick that he's able to cut back to his arm side and out-run the rush. He's then able to locate teammate Chris Conley in the back of the end zone and delivers an off-platform missile with perfect accuracy. Mahomes has gotten himself into trouble on a few other occasions on similar escape attempts, but this one led to one of the best touchdowns in the NFL this season.
There's not much you can do about a play like that if you're the 49ers defense, but #54 Cassius Marsh goes with an aggressive swim move on his pass rush, and he loses contain, which should come as no surprise to Patriots fans.
For the Patriots' edge rushers, the focus will be on collapsing the pocket around Mahomes, so he doesn't have an escape route.
"All quarterbacks are different, but we've gone up against guys where it's pretty much a similar game plan," Trey Flowers said. "Just try to contain him [on the edge] and get some pressure up the middle is pretty much the formula against mobile quarterbacks."
Against the Texans, the Patriots' defensive line did a great job of sticking to the game plan to keep Deshaun Watson from extending plays with his legs. This first-quarter sack split by Trey Flowers and Deatrich Wise was a perfect execution of this strategy. Both Flowers and Adrian Clayborn do an excellent job of staying level with the quarterback on their power rushes, and the Pats get an interior push from Wise and Adam Butler. Once Watson feels the pressure, he looks for an escape route through the middle of the defensive line, but Wise is waiting for him as the pocket collapses around him.
However, the Patriots, Clayborn in particular, haven't always stayed true to their rushing lanes against mobile quarterbacks. On this Blake Bortles scramble from Week 2, Clayborn found himself well behind the Jaguars quarterback, which allowed him to run for nine yards to convert on third down. As Bill Belichick so eloquently put it a few weeks ago, "what are you going to from back there?"
The Patriots need to execute as they did in Week 1 against Mahomes on Sunday.
DESIGNED QUARTERBACK ROLLOUTS
Although Mahomes likes to improvise, Chiefs head coach Andy Reid also utilizes Mahomes' athleticism on designed bootlegs.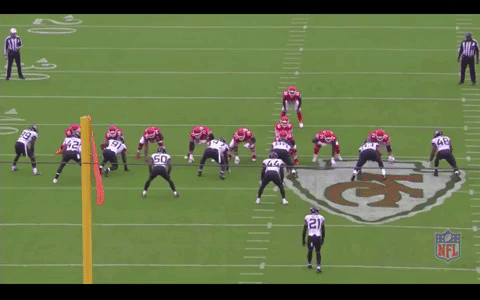 On this play from last week's win over the Jaguars, the Chiefs run a simple bootleg action with Mahomes from under center, and he throws an absolute strike to fullback Anthony Sherman for a 15-yard gain on third down. The ball placement on this throw is spectacular. Mahomes puts the football in a perfect location away from the defender, and you see that rocket arm throwing a dart to his fullback without setting his feet. Mahomes has also shown the ability to make throws under pressure, as he's unphased by the defender in his face on this throw.
These types of situations can be tough for pass rushers; Mahomes has the agility to elude defenders as a runner but will also torch the secondary if you don't apply pressure.
"You want to be aggressive, but you have to understand that you want to be aggressive but take a smart angle on him," Flowers said. "You want to be disciplined as far as containing him with your pursuit. If you're running to the ball you want to be disciplined and pursue with a smart mindset, then you'll be able to contain him."
Mahomes can still beat you on throws like the one above, but balancing aggressiveness and discipline will be critical for the Patriots' defensive front on designed rollouts.
CONCLUSION
With minimal NFL experience, Patrick Mahomes has taken the league by storm leading the Chiefs to a perfect start to the 2018 season.
Mahomes is averaging over 300 passing yards per game, has a 112.7 passer rating, and had a 14-0 touchdown to interception ratio through the first four weeks of the season.
However, there are a few ways to turn the electrifying Mahomes into just an above-average quarterback.
The main criticism of Mahomes' game will be brought to light in this week's Patriots game plan, but forcing him to beat you from the pocket will be a major emphasis for Bill Belichick's defense this week.
Although the Texas Tech product is a terrific talent and is wise beyond his years, he's still a young quarterback that struggles at times to go through his progressions.
And allowing him to extend plays with his legs is one way he can mask those deficiencies.
For all CLNS Patriots Videos SUBSCRIBE to our CLNS Media YOUTUBE Channel.
---
For the most in depth and comprehensive player and game analysis check out Patriots All-22 with host and Patriots beat reporter Evan Lazar. Listen and Subscribe HERE
---
Get the inside scoop on the Patriots every week on CLNS Media's Patriots Beat Podcast with host Mike Petraglia. Listen and subscribe here iTunes | Stitcher | Spotify
---
For all your Patriots content needs throughout the 2018-2019 season follow us on Twitter @PatriotsCLNS as well as Patriots Insider Mike Petraglia @trags and Patriots Beat Reporter Evan Lazar @ezlazar