The Patriots did a great job plugging holes in their roster during free agency. Nearly every player from last year's defense will be returning in 2023, and the offense made solid upgrades at pass-catcher while adding necessary depth at offensive tackle and running back.
Still, there are spots on the roster that need to be addressed. There is no obvious heir to Jakobi Meyers' top receiver role, both tackle spots could use an infusion of youth, and the cornerback room lacks a reliable starter above 5'11". Luckily, this draft class is loaded at positions where New England should be looking to add young talent come April 27th.
This 'Perfect Patriots" series will explore prospects all over the draft who would be great in New England based on scheme, team needs, and positional value. Let's kick off with 1st rounders who could make an instant impact.
CB CHRISTIAN GONZALEZ, OREGON
Expert's Take
"Gonzalez plays with fluid hips and blazing top-end speed, which should help him match against top-end targets in the future. He can rough up the release or use mirror-and-match footwork from press-man coverage and he has all the tools to become a highly capable route shadow."
– Lance Zerlein, NFL.com
How He Fits
The Patriots would likely have to trade up for Gonzalez, but he's the type of player who could completely change how they play defense. New England's cornerback room proved formidable last season despite injuries forcing rookies Marcus and Jack Jones to step up in big ways. But the unit lacked someone who could consistently match up with the league's best receivers, particularly those with size.
Gonzalez would give them the type of athlete who can match up with any body type or skill set. The Oregon corner has prototypical size for the position and blew away the combine's speed and explosion testing.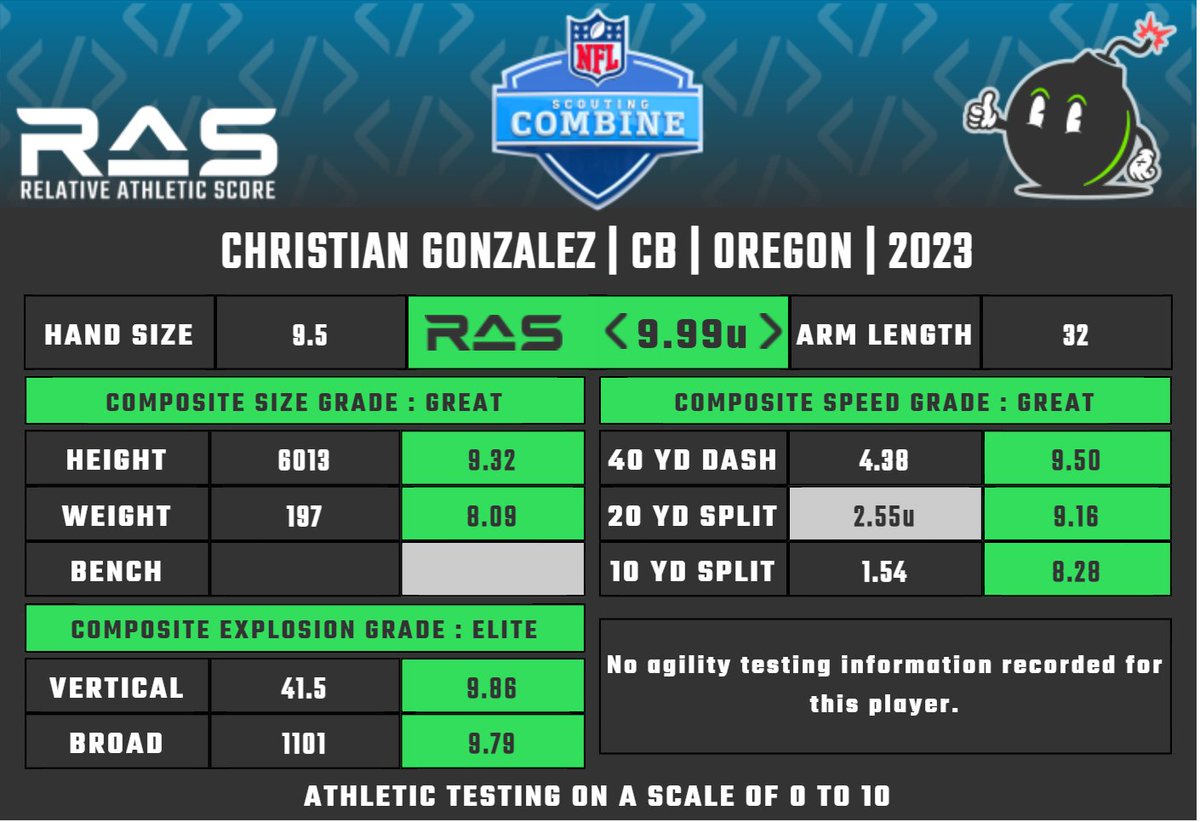 Testing numbers don't always translate to the field, but that's not the case with Gonzalez. He has excellent closing speed to contest the catch point and bring receivers down quickly. He can run with just about anyone downfield, showing confidence in his transitions while possessing the recovery speed to stay competitive when beaten.
Christian Gonzalez with a nice speed turn to take away the go route pic.twitter.com/GiWEbZmmcs

— Matt Holder (@MHolder95) March 24, 2023
Gonzalez's long, powerful arms make him disruptive in press coverage, and his loose hips allow for effortless mirroring throughout the route.
Christian Gonzalez is long and fast… but his hips are what ties it all together. As loose/fluid/oily (pick your term) hips as I've ever seen studying CBs

Shows up all the time.

6013 197 4.38
41.5" Vertical, 11'1 Broad
And he turns 21yrs old in June. pic.twitter.com/Ada2mep0Of

— Ben Fennell (@BenFennell_NFL) March 22, 2023
Like any alpha corner in the Patriots system, Gonzalez also brings tone-setting physicality and effort as a run defender.
Christian Gonzalez in run support. Chef's kiss. pic.twitter.com/AxKmHFukrK

— John (@JohnALimberakis) March 25, 2023
Gonzalez hasn't shown the ball skills to consistently turn his tight coverage into turnovers, but he has the versatility and intelligence New England covets in their defensive backs. If the Patriots want to take the step from competitive to elite, Gonzalez would be a big step in the right direction.
Projected Role: Shutdown corner with scheme versatility
WR ZAY FLOWERS, BOSTON COLLEGE
Expert's Take
"Flowers is primed to be an effective slot/Z hybrid who thrives in quick game and down the field. His blend of elite speed, twitch and route-running chops will make him a tough cover, especially if his offense gives him help via motions and free releases from stacks and bunches. "
– Derrik Klassen, Bleacher Report
How He Fits
Flowers' stock has been a bit polarizing due to his lack of prototypical size, which admittedly shows up in some press and contested catch situations. That being said, Flowers plays much bigger than his height-weight numbers suggest and has some of the class' best ball skills, particularly downfield. He plays with an alpha mentality that's drawn comparisons to some of the league's most dynamic undersized receivers, including Steve Smith Sr. and former Patriot-for-a-day Antonio Brown.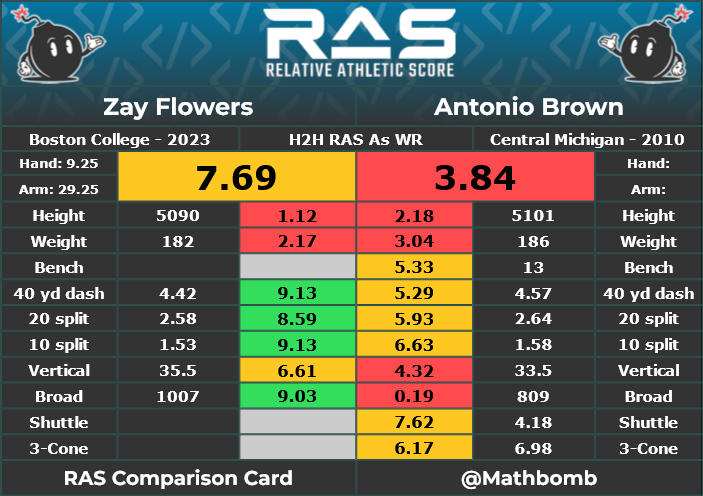 I have my own comp for Zay Flowers but it's irresponsibly lofty expectations so I'm afraid to say it.

but I mean…you guys see it too, right? pic.twitter.com/eElPdeDqr4

— Brett Kollmann (@BrettKollmann) January 24, 2023
If selected by the Patriots, Flowers would bring electric playmaking ability to Julian Edelman's Z/slot role. He actually did just that while working with the Patriots' coaching staff at the Senior Bowl, even executing the team's HOSS Y Juke concept as the inside-most "juke" runner.
so Flowers has already practiced using NE's terminology and O'Brien had him running juke in Welker and Edelman's old spot at Senior Bowl practices

very necessary deep dive coming soon

Video link: https://t.co/y8rHTB8Qk6 pic.twitter.com/ihZQCmDpp1

— Taylor Kyles (@tkyles39) March 11, 2023
What sets Flowers apart from his peers is his ability to threaten each level of the defense. He's an elusive ball carrier with great spatial awareness and change of direction ability. That quickness also makes him difficult to keep up with in routes, complemented by consistent use of leans and head fakes to manipulate defenders. Flowers does an excellent job tracking the ball downfield and frequently outmuscles defenders for highlight-reel grabs.
Zay Flowers bracketed at the top of the screen

-takes an inside release
-dino stems his route to force the CB off before breaking inside on the post
-gets on top of the inside man with speed
-MOSSES THE S&@% OUT OF THE INSIDE MAN
-touchdown

— Anthony Cover 1 (@Pro__Ant) February 25, 2023
Bill O'Brien's use of alignments and motion to make life easier on receivers is just what Flowers needs to fully unlock his potential. And the receiver's record of dynamic playmaking could elevate a receiving corp loaded with possession receivers. Some may think the 14th pick is too rich for a smaller receiver, but I think the potential impact Flowers brings justifies it.
Projected Role: "Z"/slot receiver
WR JAXSON SMITH-NJIGBA, OHIO STATE
Expert's Take
"For slot-needy teams, Smith-Njigba is the answer. He's an excellent possession receiver from the slot with his route-running intelligence, quarterback friendliness and adequate blocking skills."
– Derrik Klassen, Bleacher Report
How He Fits
Even when surrounded by 1st round talents in Chris Olave and Garrett Wilson, Smith-Njigba established himself as a top option for one of college football's best offenses. While Smith-Njigba isn't the fastest or most explosive receiver in this class, he is the best route runner and showed elite quickness at the combine.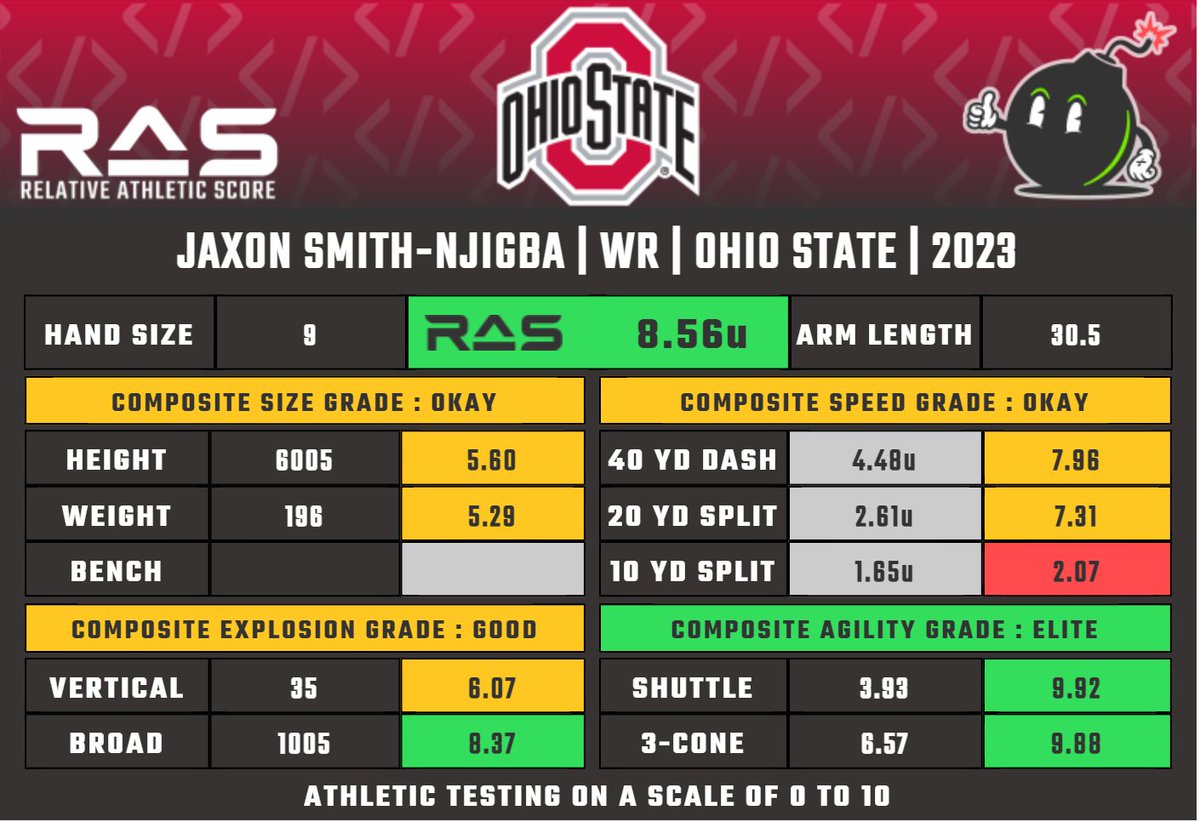 He also has arguably the best hands and concentration in the draft, with a college reel full of highlight grabs.
Catch of the year by Jaxson Smith-Njigba. Dude isn't human coming up with this monster play on 3rd and 19 in the biggest game of the year. pic.twitter.com/HUsN6jDm42

— Garret Price (@DynastyPrice) November 27, 2021
Smith-Njigba would slide perfectly into Jakobi Meyers' old role, spending time at Z in 2-receiver groupings and primarily bumping into the slot in multiple-receiver packages. Like Meyers, the Buckeyes receiver wins with exceptional quickness and route-running, awareness to find voids in zones, and solid run blocking. But Smith-Njigba separates himself from the former Patriot with a bit more burst and production after the catch.
This escalated quickly for Jaxson Smith-Njigba

Uses a sharp stab to clear the flat defender & quickly sit in space. Then makes the catch, quickly gets upfield, shakes the soul out of the CB, & takes it for 6. Nice downfield blocking from Chris Olave toopic.twitter.com/wQaWR15A6a

— Anthony Cover 1 (@Pro__Ant) February 10, 2023
Smith-Njigba isn't a field-stretcher who will consistently get behind a defense, but his quickness off the line allows for early wins while his savviness at the top of routes creates friendly downfield windows.
Slot fade from Jaxson Smith-Njigba. Holds to the numbers to give Stroud plenty of space to fit the throw in, and makes a real pretty over the shoulder catch for the TD

— Anthony Cover 1 (@Pro__Ant) February 10, 2023
Smith-Njigba doesn't have Flowers' explosiveness or deep prowess, but what he lacks in explosiveness he more than makes up for in reliability. That would go a long way in a Patriots receiving corp that lacks a proven #1 receiver.
Projected Role: "Z"/slot receiver
RT DARNELL WRIGHT, TENNESSEE
Expert's Take
"Overall, Wright is a physically imposing, tone-setting blocker with starter-level play strength, power and balance to absorb and dish out force to both anchor and uproot opponents on command. "
– Brandon Thorn, Bleacher Report
How He Fits
Wright is my favorite offensive lineman in this draft. He's a massive human who plays with a nastiness that would complement Mike Onwenu perfectly. Like the Patriots' Pro Bowl-caliber right guard, Wright plays with exceptional athleticism for his gargantuan size, with his combine numbers drawing comparisons to Jason Peters.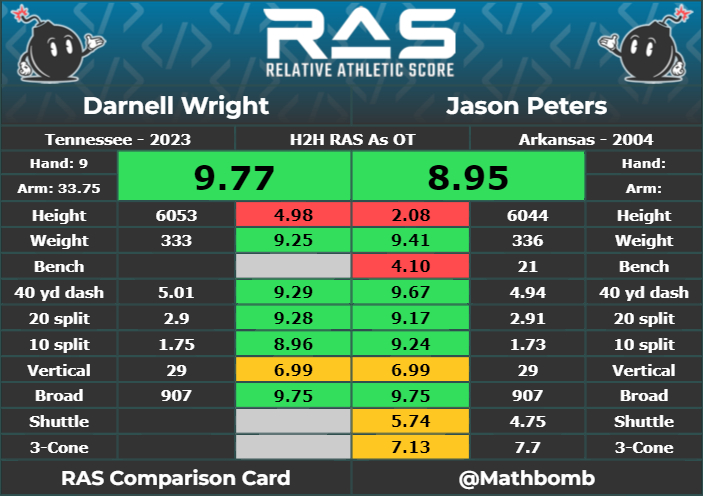 Wright put himself on the map by playing his best games against the best competition. When facing a future top pick in Alabama's Will Anderson, Wright correctly anticipated the rusher would try winning with speed-to-power moves and shut him down all game.
Darnell Wright breaking down his 2022 matchup vs. Will Anderson ?https://t.co/8JT9JSzOFY pic.twitter.com/GIQFRQCGO5

— Brandon Thorn (@BrandonThornNFL) March 1, 2023
Wright's preparation and attention to detail show up constantly in his pass blocking.  His hand-fighting and anticipation are advanced, as you'll regularly see him use "snatch-trap" moves to turn power rush attempts into pancakes. Though Wright likely fits best at right tackle, he has the technique and experience to play on the left.
Tennessee OT Darnell Wright is on the @seniorbowl watchlist & for good reason.

Listed at 6060–335 pounds

Played LT in 2021, but flipped to RT. I am a fan of this move because it showcases his positional versatility.

He played a good game vs UF! pic.twitter.com/NxWcwOdjB1

— Full-Time Dame ? (@DP_NFL) September 29, 2022
As impressive as Wright is in pass protection, he's at his best when blocking on gap runs. He's a bully whose size and power allow him to plow through any and everyone who gets in his way. He's also nimble enough to kick out on pulls and make blocks at the second level.
Question: how would defenses stop a gap/inside zone scheme with Mike Onwenu and Darnell Wright on the same side?

Answer: they would not. pic.twitter.com/nkBFuOIQWj

— Taylor Kyles (@tkyles39) March 3, 2023
Wright would be a perfect fit on the power-centric right side of New England's offensive line, providing another bulldozer next to Onwenu. He struggles with balance and lunging at times, but would be an upgrade over projected starter Riley Reiff. Wright's stock is on the rise thanks to standout performances at the Senior Bowl and combine, but teams may opt for bigger names from bigger schools early in the draft. If New England doesn't love the value available at #14, Wright is a great option a bit later in the Round 1.
Projected Role: Right tackle in a gap-heavy scheme
TE MICHAEL MAYER, NOTRE DAME
Expert's Take
"Expectations for Mayer are exactly what you'd expect for a tight end discussed as a potential top half of the first round player at the position: he's going to win both as a blocker and as a receiver and should quickly become a trusted target for his quarterback. Mayer should be a staple on the roster across multiple contracts for the team that drafts him."
– Kyle Crabbs, The Draft Network
How He Fits
With Hunter Henry and Mike Gesicki both set to be free agents in 2024, tight end is a sneaky position of need for the Patriots. It's also a spot that hasn't had a true dual threat since Rob Gronkowski and Martellus Bennett. Mayer would give provide just that with a productive college resume, impressive testing numbers, and day-1 starter potential.
Mayer's best fit with New England would be as an in-line "Y" tight end, which would free up Henry to play more H-back and Gesicki to be a big slot or even Z. Though Mayer is still a work in progress as a blocker, he's one of the best in the class and has the potential to be a plus starter sooner than later.
Michael Mayer is awesome at combo blocks and sift blocks (working across the formation) but his ability to sustain blocks is inconsistent. pic.twitter.com/EwdN3fXVJv

— mike (@bengals_sans) February 20, 2023
Mayer brings just enough in the run game to make defenses respect his presence, but his true value is as a receiver. Despite the prototypical "Y" tight end size, which doesn't always translate to dynamic receiving ability, he's proven to be a good route-runner with exceptional ball skills and surprising ability after the catch.
Michael Mayer making plays pic.twitter.com/zVQpVftG9G

— Ian Hartitz (@Ihartitz) March 27, 2023
Mayer shows an understanding of how to set up defenders off the line, clear jam attempts, and win at the top of routes. At the catch-point, he maximizes his frame and shows excellent ball skills to attack the ball at its highest point and make catches through contact. These traits give him positional flexibility as a player who can contribute in-line, in the slot, and even out wide.
Michael Mayer lined up all over the formation for Notre Dame. Including spots that got him the ball in space. pic.twitter.com/nCqX93d0k8

— Nate Tice (@Nate_Tice) February 22, 2023
Mayer would provide a reliable security blanket and potential difference-making run blocker the offense can use as a focal point for years to come. Having three capable receiving tight ends who can line up anywhere would open up a lot of possibilities for Bill O'Brien, who loves using non-traditional groupings and formations to create advantages. If the Patriots want better value in the mid-late 1st round, Mayer would be a low-risk, high-reward investment.
Projected Role: In-line "Y" with positional versatility