The Patriots' 2-7 season has brought some uncomfortable realities to light. Bill Belichick may not see the end of his recent contract extension, Mac Jones has played some of the worst football of his career, and New England's bend-but-don't-break defense is starting to stretch the limits of its mantra. Injuries have been a massive factor in their 2023 struggles, but personnel losses have only magnified the team's poor roster construction.
When dissecting this team and its long-term outlook, their lack of reliable young talent is jarring. This is due to poor drafting, free agent evaluation, and overall asset management.
Outside of Thuney, very little return in the trenches and at DB

Among the players not re-signed:

Dominique Easley (released)
Jimmy Garoppolo (traded to SF)
Malcom Brown
Jordan Richards (traded to ATL)
Geneo Grissom (waived)
Cyrus Jones (waived)
Joe Thuney (!!)
Jacoby Brissett… https://t.co/6hqLguPwNo

— Taylor Kyles (@tkyles39) November 1, 2023
One could speak ad nauseam on the organization's specific failings, of which there are many, but that's not what this article is about. Through all of this season's adversity, multiple players have stood out as potential cornerstones for the franchise moving forward. And with several players reaching the end of their contracts after this season, significant change is inevitable. When that happens, whoever leads the process must identify New England's foundational pieces and add talent to complement those players.
With that in mind, here are current Patriots under 27 years old who I think the team should build around entering its next, much-needed phase of evolution.
CB Christian Gonzalez (Rookie, 21 years old)
Christian Gonzalez fell into the Patriots' lap at pick 17 in this season's draft. His rare combination of size, fluidity, and poise seemed like a perfect fit for a secondary lacking a true #1 corner on the outside, especially with defensive mastermind Bill Belichick overseeing his development. There were growing pains in training camp, namely his struggles against DeVante Parker jump balls, but Gonzalez stood out as one of the team's talented players from day one.
Gonzalez was immediately thrown into the fire during the season opener, going 1-on-1 against A.J. Brown and DeVonta Smith more than any other corner. Despite being targeted on a team-high 10 passes, Gonzalez allowed just one 20+ yard reception and zero touchdowns. He also forced an incompletion on 4th & 2 to give his offense a chance for a game-winning drive.
Gonzalez went on to cover Tyreek Hill, Jaylen Waddle, Garrett Wilson, and CeeDee Lamb, finishing that stretch with an interception, 2 forced incompletions, no touchdowns allowed, and just 2 explosive receptions in his area.
Christian Gonzalez has had smothering reps vs 3 of the best NFL's best receivers. Just remarkably little panic in his game

Had a couple losses at the top of routes vs the Eagles and gives up most underneath throws (understandably at times), but he's been great deep pic.twitter.com/A4mTBTgC5N

— Taylor Kyles (@tkyles39) September 19, 2023
The former Oregon Duck also answered questions about his toughness and willingness to tackle, leading the defense with 4 stops through as many weeks and only missing one tackle. He wasn't perfect, but Gonzalez earning Defensive Rookie of the Month reflected his outstanding efforts in the season's opening quarter.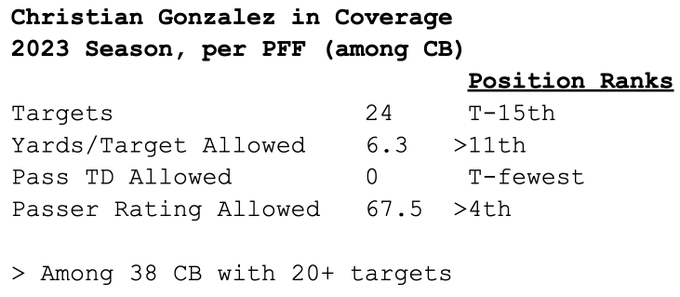 Gonzalez suffered a torn labrum that ended his rookie campaign after just four weeks, and his loss has been palpable in the games since. Assuming his injury doesn't become a long-term issue, Gonzalez should be the cornerstone of New England's defense, as well as the franchise, for a long time.
OL Mike Onwenu (4th season, 25 years old)
Since being selected 182nd overall in the 2020 draft, Mike Onwenu has become one of the most impressive late-round gems of the Bill Belichick era. Despite concerns about his weight and effort coming out of Michigan, he's proven to be one of the offense's most versatile and reliable pieces.
As a rookie, Onwenu tied with Jack Conklin for the 7th-highest PFF offensive grade among linemen with at least 900 snaps, spending time at right tackle (591 snaps), right guard (180 snaps), and left guard (110 snaps). From 2021-2022, he earned the 6th-highest grade among interior offensive linemen with at least 1,000 snaps over that span, including 276 snaps at left guard and 266 at right tackle.
Onwenu suffered an ankle injury with six plays left in the 2022 season finale, the first snaps he'd missed all season, which required surgery in the offseason. This forced Onwenu to miss the entire summer program and season opener, with his debut coming in Week 2 against the Dolphins. He was in and out of the lineup while returning to full strength, left in the 1st half of Week 5's Saints game, and was inactive the next week in Las Vegas.
While his presence was missed at guard, a more glaring hole at right tackle led to Onwenu being kicked back outside in Week 7 against the Bills. His transition back to tackle looked effortless, and the week off did the mauler some good, as he's one of just three players to play every snap of offense over the past three weeks. Since Week 7, Onwenu has allowed the 4th-lowest pressure rate among right tackles with at least 40 pass-blocking snaps. He also has the 9th-highest PFF offensive grade among offensive tackles with at least 100 such snaps over that span, including the 3rd-highest run-blocking grade.
Sow generated strong push in the ground game, including some great combos with Onwenu/Andrews and physical reps at the 2nd level

Took his L's, including two reps where he allowed penetration after losing off the snap, but I think NE may have found their top OL pic.twitter.com/M62X3yqGx8

— Taylor Kyles (@tkyles39) October 24, 2023
He'll lose the edge to a well-timed speed rush once or twice a week, but the difference has been night and day compared to when Vederian Lowe and Calvin Anderson were in the lineup.
I think Onwenu's best fit is inside, but considering New England's lack of proven trench talent past this season, they can't be too picky. Onwenu is in the final year of his rookie deal, Trent Brown seems eager to test free agency next offseason, and David Andrews is a retirement candidate. If I'm the Patriots, I'm signing Onwenu to a deal similar to the Packers' Elgton Jenkins and making him one of the league's highest-paid guards while including incentives in case he's asked to stay at tackle. This would allow the offense to retain one of its few bright spots and make Onwenu the first offensive draft pick to re-sign with New England since former teammates James White and Shaq Mason.
IDL Christian Barmore (3rd season, 24 years old)
Talent has never been an issue for Christian Barmore, but one season as a full-time starter at Alabama and inconsistent play allowed New England to steal him in Round 2 of the 2021 draft. He showed promising flashes as a rookie while rotating in a stacked defensive line but missed seven games the next season due to a knee injury. Run defense was also a concern, which kept him from seizing a full-time role.
This season, Barmore looks like the every-down game-wrecker the Patriots hoped he could become, stepping up for a front that lost Pro Bowler Matthew Judon four weeks into the season. Only Ja'Whaun Bentley, Jahlani Tavai, and Deatrich Wise have played more snaps for New England's defensive front than Barmore. His power and precision as a pass rusher regularly pop off the tape. Better leverage, hand placement, and recognition have made him an immovable object at times against the run. Bill Belichick credited Barmore's improvement to being fully healthy for the first offseason of his professional career, and the difference has been staggering.
Christian Barmroe just keeps playing like a force of nature. Combining his trademark pass rush prowess with moments of dominant run defense

His ascension as an invaluable, consistently disruptive piece of the #Patriots defense has been huge without Judon pic.twitter.com/kuyl40ffT8

— Taylor Kyles (@tkyles39) October 30, 2023
The third-year defensive tackle's 14.9% pass rush win rate, 4 batted passes, and 3 sacks this season are all career-highs. Barmore's 80.0 pass-rush grade is also the 10th-highest among interior defensive linemen with 200+ defensive snaps.
Dominant defensive tackles are a rare, indispensable commodity. Not since Vince Wilfork has New England's defense had a player at the position who could dominate vs both run and pass. If Barmore stays on or neat his current trajectory, he should be a no-brainer extension candidate this off-season.
HB Rhamondre Stevenson (3rd season, 25 years old)
Having a running back as one of your top foundational players isn't a great look, but Rhamondre Stevenson also deserves his flowers.
The former Oklahoma Sooner has played the 8th-most snaps among halfbacks since entering the league in 2021, and he was benched multiple as a rookie for fumbling. Over that three-season span, Stevenson ranks top-10 in yards after contact per rush (3.4, 5th) and missed tackles forced per attempt (0.2, t-7th) among halfbacks with at least 350 rushes. His 56 runs of 10+ yards are also tied for 9th-most at the position. That big-play ability has translated to the passing game, where he's forced the 4th-most missed tackles (36) and tied for the 12th-most receptions of 15+ yards (12) among halfbacks since 2021.
Despite his impressive stamina, Stevenson has probably taken on a heavier load than he should since last season. He had to be the entire offense under Matt Patricia, due in part to Jakobi Meyers missing time due to injury, and his play declined as a result. This season, he's been part of a two-man backfield with Ezekiel Elliott and continues to serve as the main receiving back. Stevenson's solid hands and ability to make people miss can be a dangerous combination. Still, his size and lack of short-area quickness make it difficult for him to separate consistently.
But things are looking up for Stevenson after an inexplicably slow start to this season, as he's beginning to look like his old self.
Bright spot: Rhamondre Stevenson looked like his old self for a second consecutive week pic.twitter.com/zOKaeK3Gsx

— Taylor Kyles (@tkyles39) November 6, 2023
Since Week 7, when Onwenu moved to tackle, and Sidy Sow took the reigns at right guard, Stevenson ranks 1st in yards after contact per rush (4.8) and missed tackles forced per rush (0.25) among backs with at least 25 carries. He's also tied with Elliott for the 9th-highest conversion rate at 25%.
In an ideal world, New England adds more talent to their backfield next off-season to relieve some of the burden from Stevenson and prepare for his potential departure as a 2025 free agent. But the lack of depth and developmental prospects at running back makes it difficult to see a future where Stevenson isn't on the roster.  Stevenson's remarkable availability and experience as one of the few holdovers from the Ivan Fears era are also compelling reasons for a solid payday, in my opinion.
WR Demario Douglas (Rookie, 22 years old)
Demario Douglas still has much to prove in the NFL. His imprecision as a route-runner has been a weekly issue, and his lack of size is an undeniable knock when looking at long-term potential.
That said, the 6th-rounder out of Liberty has stepped up for New England's offense more than any wide receiver not named Kendrick Bourne this season. Douglas has the unenviable task of carrying a passing game short on explosiveness and reliability, and he's done so with his signature smile and an attitude that's drawn praise from players and coaches alike. His burst and slipperiness in space have been a breath of fresh air, and he's currently one spot above Kendrick Bourne (5.6) with the 8th-most yards after catch per reception (5.9) among wide receivers with at least 30 targets this season. Douglas hasn't gotten many chances to show his downfield prowess (10+ air yards), but he's tied with Bourne for the team lead in receiving yards (166) and has the 2nd-most contested catches (2) behind Hunter Henry (3) on such plays. His 2 deep catches also make him the offense's only active player with multiple grabs on passes of 20+ air yards.
I don't think Douglas should be the offense's focal point past this season, but he's already been used in the role and drawn that type of attention from defenses.
There were multiple plays vs the Dolphins that showed Demario Douglas' rising importance in the #Patriots offense

Pop drew double coverage on KB's TD, lined up as the #3 in empty for the 1st time (!!), and Mac checked into two shot plays designed for the rookie

Thought Douglas… pic.twitter.com/dWIpjzpLio

— Taylor Kyles (@tkyles39) October 31, 2023
If New England can find a true top dawg to put outside, then extend Kendrick Bourne or/and develop at least one other young receiver, Douglas could become an electric #2 for the offense next season and beyond.