FOXBORO — The New England Patriots won their second consecutive game with a 38-24 win over the Indianapolis Colts on Thursday night at Gillette Stadium.
Things got interesting due to a sloppy third quarter from the Pats, but they were the better team as they out-classed the Colts for most of the night.
Patriots fans got a little bit of everything on Thursday night; Julian Edelman (seven catches, 57 yards) looked good in his return, Josh Gordon caught his first touchdown pass as a Patriot, and rookie Sony Michel continues to improve.
Below, are ten things we learned from another Patriots win:
1. Tom Brady Gets His Swagger Back Against the Colts
Through the first four weeks of the season, mainly due to the struggles of his receiver, Patriots quarterback Tom Brady had taken a step back from his MVP form a season ago. However, on Thursday night, we saw Brady find a rhythm in the passing game for the first time in 2018.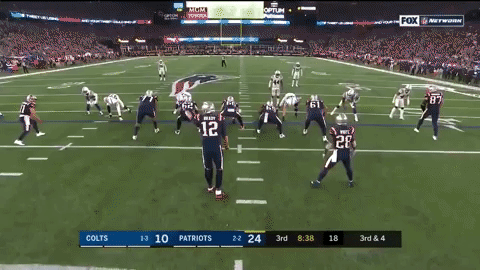 Brady started hot (more on that later) but found his groove in the second half thanks to a sensational throw under pressure to tight end Rob Gronkowski. As he was falling to the ground, Brady absorbed a hit and was still able to find Gronk over the middle. From there, Brady's ball placement was nearly perfect for the rest of the game, and we saw the confident quarterback we are accustomed to in New England.
Brady wasn't perfect, he missed a deep throw to James White down the right sidelined and a pass over the middle to Josh Gordon, but with Julian Edelman back in the lineup, he got his swagger back on Thursday night. Oh, and he reached a milestone (500 career touchdown passes) and broke another NFL record (71 different touchdown targets).
2 Julian Edelman Provides Spark for Patriots Offense
In his first game since Super Bowl LI, Julian Edelman didn't skip a beat returning to the Patriots offense and adding a much-needed slot presence to Tom Brady's arsenal.
Edelman came out like gangbusters with three catches for 28 yards on the Patriots' opening drive and appeared to be all-the-way-back from his torn ACL last August as his explosiveness and ability to create yards after the catch was as good as ever. After the game, Edelman was asked by NBC Sports Boston's Tom E. Curran if he feels close to being the player he has always been, and in true Edelman fashion, he answered, "I feel like I'm the best me right now. I'm living my best life, Tom [Curran]."
Edelman's return wasn't perfect, he did drop an easy completion on a third-down pick play in the first quarter, but he played like the player that the Patriots need him to be this season.
3. Josh Gordon Gets His First Touchdown in a Patriots Uniform in Moss-like Fashion
In the fourth quarter of a one-score game, Josh Gordon officially happened for the New England Patriots.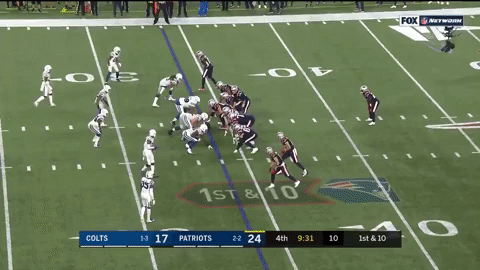 On a broken play, Gordon broke off his slant route over the middle as Tom Brady stood behind perfect protection from his offensive line and threw a jump-ball to Gordon who hauled it in for a 34-yard touchdown catch a la 2007 Randy Moss. Gordon has been limited to mostly comebacks and slants as he's integrated into the Patriots offense, but Brady learned quickly on Thursday night that the former Pro Bowler can beat coverage by leaping over them as well as running by them. In his post-game press conference, Brady said of the touchdown catch, "That tells you the kind of confidence I have in him in a really short period of time. You know, he's earned it and happy to see him make that play," which should be music to Patriots' fans ears.
Gordon has also started to make an impact as a decoy in the passing game. The Colts secondary paid extra attention to Gordon on a few plays in the first half, which led to easy completions to James White underneath the coverage. As you can see on the play above, Gordon occupies two Colts defenders, and it leaves White uncovered on an angle route for a 13-yard gain.
As Gordon continues to learn the Patriots' playbook and returns to full health with his hamstring, expect the Patriots to expand his usage and route tree.
4. Sony Michel Keeps Getting Better
Patriots first-round pick Sony Michel is the first New England rookie to eclipse the 95-yard plateau on the ground in two consecutive games since Robert Edwards in 1998. Michel did so with a 5.4 yards per carry average and a back-breaking 34-yard touchdown run to put the Patriots up three scores in the fourth quarter.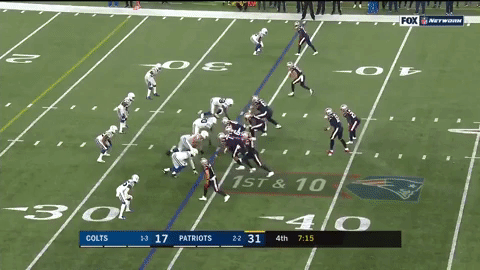 The 34-yarder was a great example of the acceleration that Michel flashed in college at Georgia, and it appears that he's now all the way back from the knee injury that took him off the field in the preseason. Michel bursts into the secondary behind a terrific pull block by right guard Shaq Mason and stiff arms the safety on his way to the end zone. That easy acceleration is why he was a first-round pick in April.
Although the touchdown was nice, this second quarter run was even better to see. Michel struggled to remain patient behind his blockers in his first three NFL games but does a terrific job of waiting for fullback James Develin to execute his block, and reads Develin's block perfectly with some quick feet added in there to turn this into an explosive play. Michel hinted at the fact that he needed to play with more patience after the game saying, "[It is about] me being patient and letting it develop. I have so much trust and faith that those guys are doing their job."
Michel's yardage total didn't surpass his Week 4 performance, but this was his best individual effort of the season.
5. Sloppy Third Quarter Leads to Colts Comeback Attempt
The Colts did make this game interesting in the second half due to some sloppy play by the Patriots offense and some breakdowns in the secondary on defense. We'll get to the defensive issues later, but offensively three critical errors took points off the board and kept the door open for Indianapolis. First, wide receiver Chris Hogan had an easy completion go off his hands and directly to Colts safety Matthias Farley. Then, center David Andrews was called for a hold on a first-down run in the red zone in the middle of a long drive for the Patriots.
That holding penalty put the Puts behind the sticks, and a few plays later Rob Gronkowski coughed the ball up on a fumbled turned interception by the official scorer. The Colts didn't get points following the Hogan "interception" thanks to Devin McCourty's fumble recovery, but they did take the momentum for a stretch after the Gronk bobble as tight end Eric Ebron scored on the following drive.
The Colts then scored a touchdown to open the fourth quarter, and a three-score lead evaporated to a one-score lead thanks to poor ball security by the Patriots' offense.
6. Patriots Offense Gets First Opening-Drive Touchdown of 2018
The Patriots lost the toss, and the Colts deferred to the second half, which opened the door for Tom Brady to put together a masterful opening drive. Brady completed all nine of his passes to five different targets for 78 yards and a one-yard touchdown to wide receiver Cordarrelle Patterson, marking just the second time in his career Brady was nine for nine on an opening drive.
The highlight of the drive was a 13-yard completion to Julian Edelman over the middle. Edelman found a soft spot in the Colts' zone coverage on a little curl route and spun out of a tackle causing two Colts to take each other out on the play. In all, Edelman caught three passes for 28 yards on the drive leading the Pats to their first touchdown of the season on their first drive of the game.
Brady also hit Gronk on their trademark play-action post route over the middle for 19 yards on the drive.
7. James White Continues to Dominate the Competition
Continuing with the offensive theme, Patriots running back James White was spectacular once again in the win. White has developed into one of the most consistently great players on the team and is one of Tom Brady's most reliable targets. He runs every route well, has reliable hands, and of course, can create yards after the catch.
On his longest catch of the evening, White juked Colts safety Clayton Geathers into another time zone with one of his jump-cuts and took a pass that didn't make it past the line of scrimmage for 18 yards. I asked White if he feels that he can make anyone miss in the open field and the Pats running back said, "I have confidence in my abilities. In one-on-one situations, I feel like I have to win it."
White tied a career regular-season high with ten receptions and has become arguably the best receiving back of the Tom Brady era.
8. Stephon Gilmore and Jason McCourty Turning Into a Dynamic Duo
After the Patriots' final preseason game, reporters huddled around cornerback Jason McCourty and discussed the possibility of his release. Fast-forward to October, and McCourty is not only still on the Patriots roster, but solidifying himself as the number two corner behind Stephon Gilmore. For the second week in a row, Gilmore and McCourty won their matchups, and are quickly becoming a savvy veteran duo that plays fundamentally sound, mistake-free football.
Both Gilmore and McCourty credited an experienced group of veterans in the secondary with their ability to play at a high level over the last couple of weeks. Gilmore said that his commitment to film study and discussing different routes with his teammates has allowed him to anticipate plays more often and do a better job of reading receivers routes. I then asked McCourty if he felt the same way and he said:
"Definitely, there's just a lot of experience in there. A guy like Steph that spent most of his career in Buffalo under Rex Ryan played a ton of man-to-man coverage, so he understands reading route concepts and reading receivers releases. I think for myself, being able to play in a lot of different systems we can go back and forth as cornerbacks and say 'hey, what did get on this one? What route concept did you get on this third down? Hey, what's are this guys releases like?' Just being able to communicate and talk about stuff during games has been big for both of us."
The Patriots' cornerback duo has a combined 17 years of NFL experience, and they're using that to their advantage on game day.
9. Patriots, Safety Devin McCourty Struggle to Cover Colts' Tight Ends
Entering Thursday night's game, we all knew that the biggest factor in the passing game for the Colts would be tight end Eric Ebron. The Colts signed Ebron in the offseason to fill the Zach Ertz role in Frank Reich's offense, and he carved the Patriots up for 105 yards and two touchdowns. The Patriots' strategy for most of the night was to put safety Patrick Chung, who typically takes tight ends in coverage, on Colts receiving back Nyheim Hines. That left fellow safety Devin McCourty in some man-to-man coverage situations with Ebron, and Ebron got the best of him.
On Ebron's first touchdown catch, a 14-yarder to pull the Colts within two scores, McCourty was one-on-one with the skilled tight end in a difficult situation. Due to McCourty's alignment, he had inside leverage on the play, and Ebron read it well breaking to the outside beating McCourty on the corner route. This is a difficult play to make due to the size and speed of Ebron, but McCourty was burned on the touchdown nonetheless.
In the future, if the Patriots opt to put Chung on a skilled receiving back, they'll have to rely on McCourty to play in man coverage situations against tight ends. If he can no longer handle that responsibility, it leaves them in a bit of a bind as they also don't have a linebacker that can handle those duties. One solution is possibly using cornerback Eric Rowe to cover tight ends when he returns from a groin injury. In all, the Colts tight ends had 149 receiving yards and three touchdowns.
10. Adrian Clayborn Starting to Get Comfortable
Another bright spot for the Patriots was that pass rusher Adrian Clayborn had his most disruptive game of the season, although he's still chasing his first sack with his new team. On initial viewing, I had Clayborn for four total pressures, including three hurries and a quarterback hit that led to Patrick Chung's interception in the second quarter. Clayborn also drew a holding penalty in the first half with a successful bull rush.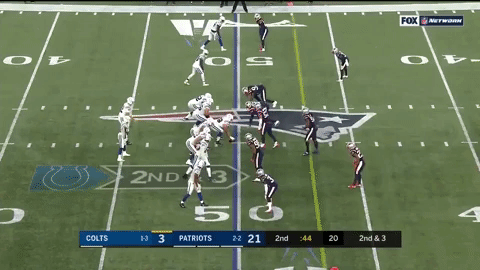 On Chung's interception, you'll see Clayborn perfectly execute a T/E stunt as he raps tight around the initial penetration from defensive tackle Adam Butler. The Patriots' defensive line has been extremely productive over the last two weeks on stunts involving both linebackers and defensive linemen, and this one gives Clayborn a free run to Luck, and the Colts quarterback ends up throwing the ball right to Chung.
Clayborn has struggled during his time in New England with his rush arc, often ending up behind the quarterback, but was much better at containing Luck on the edge on Thursday night.
For all CLNS Patriots Videos SUBSCRIBE to our CLNS Media YOUTUBE Channel.
---
For the most in depth and comprehensive player and game analysis check out Patriots All-22 with host and Patriots beat reporter Evan Lazar. Listen and Subscribe HERE
---
Get the inside scoop on the Patriots every week on CLNS Media's Patriots Beat Podcast with host Mike Petraglia. Listen and subscribe here iTunes | Stitcher | Spotify
---
For all your Patriots content needs throughout the 2018-2019 season follow us on Twitter @PatriotsCLNS as well as Patriots Insider Mike Petraglia @trags and Patriots Beat Reporter Evan Lazar @ezlazar