The Patriots linebackers have been under fire more than any position group on the team over the last few seasons.
Bill Belichick then stunned many when he waited until the fifth round to select a linebacker in April's draft.
However, although it was only one preseason game, the Patriots' fifth-round pick made quite the impression in Thursday night's preseason opener.
Against the Redskins, rookie Ja'Whaun Bentley flashed in the run game as expected, but it was his surprisingly strong play in coverage that's particularly intriguing to see.
Bentley has quite the college resume for a late-round prospect.
Last season at Purdue, he racked up 97 total tackles and graded out as the top linebacker in the 2018 draft class at 91.2 out of 100, according to Pro Football Focus.
Bentley's run defense grade in the PFF system was an outstanding 95.0 out of 100, and he had a career-best 79.6 coverage grade in his senior season with the Boilermakers as well.
In a league that's phasing out thumping linebackers that aren't known for their coverage abilities, Bentley, at 6-2, 260 pounds, is no longer the prototypical linebacker in today's NFL, or at least that was the knock on him coming out of college.
Let's go to the tape to see why Bentley stood out on Thursday night:
RUN DEFENSE
Bentley's positioning and patience as a run defender will be a welcomed sight for Patriots fans.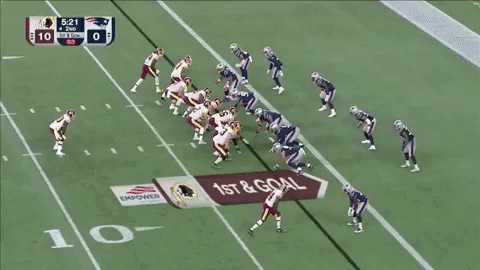 One of Bentley's highlights of the night was a thunderous tackle down by the goal line. Bentley is going to hang around a few yards off the line of scrimmage allowing the defensive line to do its job. He waits for the running back to declare his intentions, slides over to that gap and crashes down to make the tackle. His willingness to stay back on the play and his processing speed to read the running back's movements allow him to square up on the ball carrier.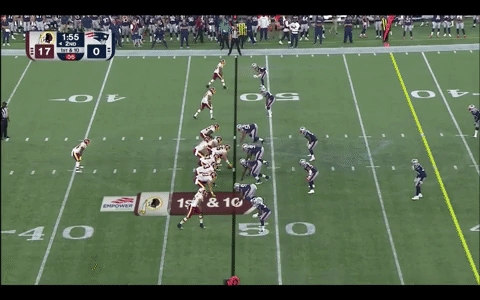 Similar looking play just different field position. #99 Vincent Valentine is going to blow up this run with a strong inside push, and Bentley comes in to help clean it up. Bentley's positioning on this play is flawless. You can see him react almost instantaneously to the stretch hand-off and he then follows the running back down the line of scrimmage to avoid over-committing to one gap.
Bentley's potential to provide a significant impact in the run game from the second level could be enormous for this defense.
COVERAGE
We knew that Bentley would be a staunch run defender but where he surprised many was in coverage.
Bentley's instincts translate to the passing game, and his change of direction was much better than expected.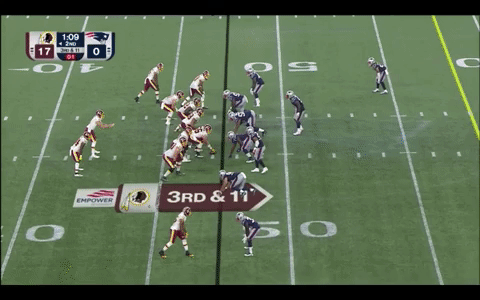 The highlight of the night for Bentley was a tackle on this third-down play. Bentley is in man coverage on rookie tight end Matt Flanagan. Flanagan is going to throw a chip block on the defensive end before releasing into the flat as a receiver. Bentley reacts quickly to Flanagan's route, shows impressive change of direction and closing speed, and stops Flanagan short of the first down. The knock on Bentley during the draft was that he exhibited stiff hips on tape. But he looks pretty athletic on this play.
Here Bentley is again showing off competitive reaction and change of direction abilities. Bentley is in man coverage on Redskins running back Byron Marshall on third and short. Marshall doesn't release straight into the flat throwing a subtle shoulder fake at the top of his route. Bentley breaks down, sticks with Marshall as he releases downfield, and stops him short of the line to gain. The play was wiped out because of a roughing the passer penalty on Pats defensive end Derek Rivers, but it's encouraging to see from the rookie linebacker.
PASS RUSH
Another area where Bentley can contribute in the passing game is as a blitzer.
In college, Bentley was productive in this role delivering punishing blows on blitzes similar to what we see with Dont'a Hightower, although not quite on Hightower's level.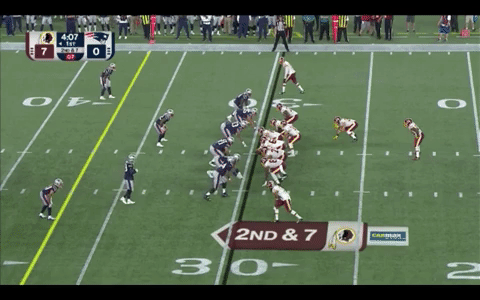 Here, Bentley doesn't get home before the quarterback releases the football, but he delivers a huge hit and flashes that blitzing ability. Bentley is going to line up on the edge initially but jumps inside as Derek Rivers twists to the outside. Bentley's timing off the snap is perfect avoiding tipping off the fullback tasked with blocking him to the inside move. That gives Bentley a free run to the quarterback with the fullback fooled on the play.
If Bentley can prove to be an effective blitzer, that's another way he can stay on the field on passing downs.
CONCLUSION
The Patriots have been dying for talent at the off-the-ball linebacker position, and they might have found a steal in Bentley.
The 21-year-old will have to prove that he can replicate his performance on Thursday night against stiffer competition than the two's and sometimes three's of the Washington Redskins.
But, so far, his process both as a run defender and in coverage is very fundamentally sound and what the Patriots coaches expect.
Kyle Van Noy has solidified himself as a top-two linebacker in the Pats' defense along with Dont'a Hightower, but Bentley could easily take snaps as the third linebacker in the rotation during his rookie season.
The Patriots traded down multiple times back in April before settling on Bentley in the fifth round, and now we got a glimpse as to why they felt comfortable doing so.
His style of play as a heavy hitter in the run game that is disciplined and a sure tackler fits the scheme perfectly, and maybe, just maybe the knocks on his coverage abilities were overblown.
If that's the case, Bentley will find himself playing a significant role sooner rather than later.
Subscribe to CLNS Patriots Content iTunes | Stitcher | TuneIn | YouTube
For more Patriots coverage, make sure you are following @PatriotsCLNS on Twitter